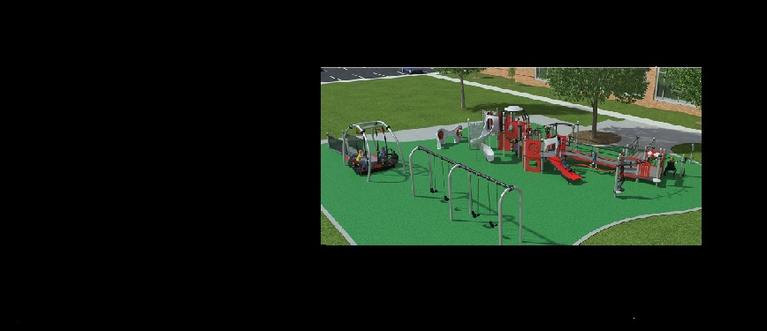 As part of project-based learning experience, a group of high school students in the CSDB School for the Blind investigated the accessibility of the playgrounds on campus and found that the playgrounds were at the end of their lifespan, did not meet Americans with Disabilities Act requirements, and were not fully accessible for many of their peers. This initial student group was inspired to assure that CSDB has a fully accessible playground for all students.
To that end, these students, and other students who joined them from both the School for the Blind and the School for the Deaf, took the initiative to research accessible playground features, visited existing accessible playgrounds in the community, and engaged in fundraising for the project – receiving two grants that allowed them to work with outside vendors to design and create a final budget for the proposed playground design that you see here. The student team completed all of the foundational steps to create a fun, engaging, fully accessible outdoor learning environment for CSDB students and now have a shovel-ready.
These CSDB students are continuing to work hard to raise the funds necessary to see their project come to fruition. Members of the student-led CSDB Playground Project Planning Committee recently presented their project to Couples Who Care and their project was chosen to receive financial support from couples in that organization. In the Fall of the 2021-2022 school year students will, with the help of CSDB staff, continue to apply for grant funding and create fundraising activities.
If you are interested in donating to this project, send a check made out to CSDB and mail to 33 North Institute Street, Colorado Springs, CO 80903.  In the memo line, write playground project donation. CSDB will mail you a letter, indicating your donation, that you can use for your tax filing.