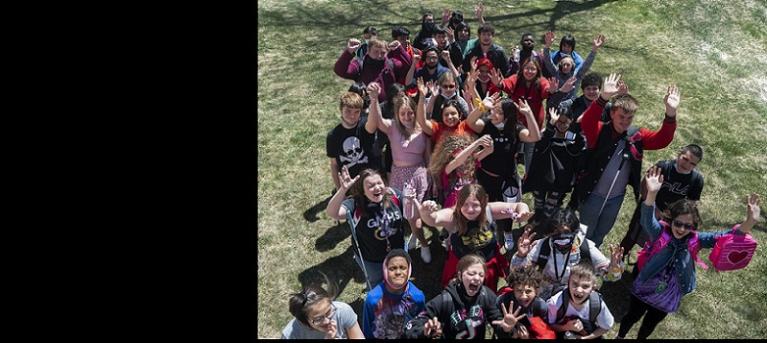 September 29, 2021
To CSDB Families,
As you know, a mask requirement went into effect in September for all staff and students. We thank everyone who has adhered to the mask requirement, which helps CSDB achieve the main goal of keeping classrooms open for in-person learning, as long as possible.  As a reminder, the statewide mask order, Public Health Order 20-38, does not require people to wear a mask if they are, "Hearing-impaired or who are communicating with someone who is hearing-impaired and where the ability to see the mouth is essential to communication".
There's great news to share! In the past six weeks, CSDB has not seen any positive COVID-19 cases within our student body or staff population.  In addition, the El Paso County Public Health data now reflects a seven-day incidence of 242.6/100,000. That's an 18% decrease. Within the CSDB campus, 78.6% of CSDB staff and 57% of our eligible student population have been vaccinated. Our community is headed in the right direction!

More positive news! Fortunately, the guideline for quarantining is much better than last year.  A person may be considered immune or protected from COVID 19 and will not need to quarantine if he/she is:
Fully vaccinated (2 weeks after last vaccine dose) or
Test-confirmed infection in past 90 days or
Participating in surveillance testing at least one time in the previous week (which all our unvaccinated employees are required to do) or
Both parties wearing a mask at the time of exposure
*El Paso County Public Health may require quarantining the unvaccinated person if exposed to the sick individual in a high-risk activity which includes:
Indoor or high contact athletic competitions
Indoor forced exhalation such as singing, exercising, or playing wind or brass instruments
Caring for a young child (feeding, holding, or diapering)
What does this mean if a student is absent due to quarantine? The student is marked as absent/no count, due to COVID-19.  In the classroom setting, the teacher would treat this as if the student was out sick and provide missed work to the student either through Canvas, paper packets, or via email. Due to the one-to-one nature of the services, Related Services can be delivered, if feasible, online while a student is quarantined.
The information attached is provided for you to review and describes the protocols for determining when students will be sent home and health practices for all of us to use.
Next week, watch for follow-up information about mask restrictions. If you have any questions, please let us know. 
Stay Healthy!

Shari Mathews, Lead Nurse
Dr. Nancy Benham, Superintendent
 
*(Note: The rules implemented by the State of Colorado and El Paso County Public Health are fluid and continue to be modified frequently. Each time we receive modifications, we review our Return to Learn plan and make updates as needed.) 
September 7, 2021
To CSDB Families:
As you know, Colorado continues to experience challenges with the COVID-19 pandemic, impacting all of us. Over the weekend, Colorado Department of Public Health and Environment reported pandemic numbers have increased significantly. El Paso County Public Health reports 299/100,000 positive cases of COVID-19 over a 7-day period. Experts predict the COVID-19 numbers will continue to rise within the next few weeks.
Acting in an abundance of caution for our staff and students, beginning Wednesday, September 8, 2021, CSDB will implement mask/face covering requirements for all students and staff regardless of vaccination status.  Masks do not need to be worn outdoors. The requirement will be in place for 30 days and re-evaluated as we continue to monitor the community COVID-19 spread.
With the start of school, public health experts anticipated that cases of normally circulating respiratory pathogens, in addition to COVID-19, will continue to rise. The symptoms of these viruses can be very similar. As we head into the fall and winter months, it will be critical to use all of the prevention measures available to us.
We continue to encourage staff and students to practice proper hand hygiene, conduct activities outdoors as much as possible, and clean frequently touched surfaces in classrooms, especially when students are changing rooms.
Finally, it's important that you evaluate your child's health.  If your child develops symptoms consistent with COVID-19 or respiratory illness:
Keep your child home. Isolated from others
Get your child tested for COVID-19
Notify the school.
For additional information on COVID mitigation at CSDB, review the Return to Learning plan at https://csdb.colorado.gov/news-article/return-to-learning  
Stay safe and healthy,
Dr. Nancy E. Benham, Superintendent
7 de septiembre de 2021
A las familias de CSDB:
Como saben, Colorado continúa experimentando desafíos con la pandemia de COVID-19, que nos afecta a todos. Durante el fin de semana, el Departamento de Salud Pública y Medio Ambiente de Colorado informó que las cifras de la pandemia han aumentado significativamente. La Salud Pública del Condado de El Paso informa de 299/100.000 casos positivos de COVID-19 en un período de 7 días. Los expertos predicen que las cifras de COVID-19 seguirán aumentando en las próximas semanas.
Actuando en abundancia de precaución para nuestro personal y estudiantes, a partir del miércoles 8 de septiembre de 2021, el CSDB implementará requisitos de máscara/cobertura facial para todos los estudiantes y el personal, independientemente del estado de vacunación.  Las máscaras no necesitan ser usadas al aire libre. El requisito estará en vigor durante 30 días y se reevaluará a medida que continuemos monitoreando la propagación del COVID-19 en la comunidad.
Con el inicio de la escuela, los expertos en salud pública prevén que los casos de patógenos respiratorios que circulan normalmente, además del COVID-19, seguirán aumentando. Los síntomas de estos virus pueden ser muy similares. A medida que nos adentramos en los meses de otoño e invierno, será fundamental utilizar todas las medidas de prevención disponibles.
Seguimos animando al personal y a los alumnos a que practiquen la higiene de manos adecuada, que realicen actividades al aire libre tanto como sea posible y a que limpien las superficies que se tocan con frecuencia en las aulas, especialmente cuando los alumnos cambian de clases.
Por último, es importante que evalúe la salud de su hijo.  Si su hijo desarrolla síntomas consistentes con COVID-19 o enfermedad respiratoria:
- Mantenga a su hijo en casa. Aislado de los demás
- Haga que su hijo se haga la prueba de COVID-19
- Notifique a la escuela.
Para obtener información adicional sobre la mitigación de COVID en CSDB, revise el plan de regreso al aprendizaje en https://csdb.colorado.gov/news-article/return-to-learning
Manténgase seguro y saludable,
Dra. Nancy E. Benham, Superintendente
Return to Learn - Fall 2021   (Text-only document)
The Colorado School for the Deaf and the Blind (CSDB)—in collaboration with families, school districts and community partners—educates and inspires learners throughout the state, birth through age 21, to achieve their full human potential through comprehensive, individualized academic, transition, residential and outreach programs, and resources.
RETURN TO LEARNING Families and Staff of CSDB,
August 10, 2021
The Colorado School for the Deaf and the Blind is committed to its students, families and staff to provide education following the Center for Disease Control (CDC) and the El Paso County Public Health guidelines in response to the COVID-19 pandemic. The goal of CSDB will return to in-person learning, August 16, 2021, learning as safely as we can. We know most of our students learn best by being in school.
CSDB believes the health and safety of students and staff must be the highest priority as schools reopen, August 2021. It is essential that all staff, students, and families understand and embrace the health guidelines, including the implementation of risk mitigation practices as recommended by El Paso County Public Health and the Colorado Department of Public Health and Environment. CSDB must follow any active health and executive orders; all constituents will need to remain flexible and willing to adjust and support practices that provide the ability for schools to remain open and educating students. This document will outline practices, procedures and protocols for staff, students, and families to understand and follow to maximize the health and safety of students.
Currently, masks are optional indoors and on-campus for students. We encourage unvaccinated, or not fully vaccinated, students to wear masks. However, the Governor of Colorado has mandated that unvaccinated or not fully vaccinated state employees, which include CSDB staff members, must wear masks while in state buildings, and around others. Please know that mask requirements may change based on guidance received from El Paso County Public Health or the Governor. Federal law requires that masks will be worn by both students and staff on school, and public transportation.
CSDB has been focused on supporting the mental health, social and emotional needs of students and staff for some time. Now more than ever, CSDB will continue to prioritize the social and emotional needs of students and staff by providing services and resources such as counseling and wellness activities, as well as encouraging communication that not only provides information but solicits information from staff, students and families on pertinent needs. Furthermore, high-quality instruction will integrate social and emotional learning strategies into the daily classroom experience to reinforce safety, well-being and engagement of students.
CSDB respects and understands the importance of family voice following this unprecedented health crisis. CSDB remains diligent to providing timely information regarding protocols and guidelines. CSDB is committed to providing 100% in-person learning. We ask that you monitor your child(ren) for any symptoms and keep your child home if they are ill. We look forward to school resuming with our students on-campus in August 2021.
Districts have been directed to work with their local public health department and follow the guidelines from the Colorado Department of Public Health and Environment (CDPHE). We will continue to monitor guidelines and update this plan as necessary. The CSDB Board of Trustees will review the plan, as necessary, during scheduled monthly meetings. The CDPHE will be supplying updated information in terms of hygiene, social distancing and other public health considerations.
Take care, and stay well!
Dr. Nancy E. Benham, Superintendent
INSTRUCTIONAL PROGRAM
Upon opening, it will be critical to set and maintain high grade-level expectations for academic growth and development. CSDB will be open for in-person learning. All students will be instructed through in-person learning, on-campus.
CONTACT TRACING, ISOLATION, AND QUARANTINE
The Colorado Department of Public Health and Environment (CDPHE) has released a practical guide for opening schools. Per the guidance as of August 1, 2021, CSDB will follow the isolation and quarantine guidance developed in the guide. The guidance indicates that schools that have a vaccination rate of 70% or above do not need to quarantine. This applies to both vaccinated and unvaccinated people. Any confirmed positive cases for staff and students will still result in an isolation. CSDB will no longer quarantine healthy/non-symptomatic students and staff. Students and employees who test positive for COVID will be asked to isolate for a number of days as outlined by the CDPHE. CSDB will follow the public health orders for quarantine of family members of students and staff who test positive for COVID as appropriate. CSDB will no longer notify school communities about positive and/or symptomatic cases.
CSDB will continue to use the Learning Management Systems (LMS) Canvas and Google Classroom. In the School for the Blind, Canvas will be used by all teachers K-12th grade. In the School for the Deaf program, elementary students in grades K-5 will utilize Google Classroom, and grades 6-12 will utilize Canvas. The Employability Center and Bridges to Life programs will utilize Canvas.
Mainstream and off-campus work experience options will resume beginning August 2021. The options will be reevaluated periodically. CSDB will follow Pikes Peak Community College in establishing expectations for students enrolled in those classes.
School programs, Kindergarten through Bridges to Life, will begin August 16, 2021, and will be held Monday-Thursday 8:30am-3:30pm and Fridays 8:30am-1:00pm. Preschool begins August 23, 2021, and will be held Monday – Thursday, 8:30 a.m.– 3:30 p.m., and includes students eating lunch at school. There is no preschool, on Fridays.
REGISTRATION
Local Students:
Registration Day is scheduled for August 15th, from 1:00pm-4:00pm. Registration packets were emailed to parents to complete electronically. On August 15th, all unvaccinated are encouraged to wear a mask. Any individuals with symptoms are asked to stay home. Only one family member will be permitted to accompany their child(ren) into the dorm unit.
Dorm Students:
Dorm students who normally arrive at CSDB on Sunday nights will return to campus on August 15th. There will be no charter bus pick-up in Denver on that Sunday. CSDB transportation will begin Friday, August 20th. Bring any necessary medications to registration on Sunday, as per normal procedures. Staff will be available to collect these items. Students should limit the amount of luggage and personal items the first week back to school. Students may bring more items as needed, in the following weeks. During registration a CSDB nurse will consult with families, to collect any necessary medical information. Further information regarding students returning to the dorm, including instructions for students who do not ride the charter bus, will be communicated to parents from our Student Life department, prior to school starting in August.
INISTRUCTIONAL PROGRAMMING
CSDB students will begin with in-person learning in an environment focused on supporting the health and safety of students and staff. CSDB will continue to adhere with recommended social distancing guidelines of at least 3 feet between students/students and 6 feet between adults/adults and adults/students. To do this, common areas such as the Administration Building front desk office, restrooms, libraries, cafeterias, gyms, and hallways will be clearly marked with wall and floor reminders to social distance. At this time the Governor of Colorado has mandated that unvaccinated or not fully vaccinated state employees, must wear masks while in state buildings, and around others. Staff will ask students to separate if standing too close together. CSDB will support parent choice for their child to wear a mask, regardless of vaccination. Custodial staff will disinfect common areas throughout the day and will address high trafficked areas each night.
CSDB has invested in a variety of resources to support instruction in schools, including: purchasing additional hand sanitizing and disinfecting tools, for every classroom, that can be used to clean areas quickly; purchasing face coverings for students and staff who wish to use them, installing water stations to fill personal water bottles (no water fountains in use), and adding hand sanitizing stations.
CSDB is admitting outside guests based upon educational need and reason, including visitors, volunteers and presenters, and families. Visitors are responsible to do their own self-assessment and screening prior to arriving to campus. If individuals do not feel well, they are asked to stay home. Teleconferencing will continue to be utilized as a way to stay connected as well as increased email and phone communication. Families should ensure all emergency contacts are up-to-date in case your child needs to be picked up.
CLASSROOMS
Creating positive learning environments is a high priority for CSDB. Some adjustments will be required because of the health safety practices necessary to keep staff and students in school.
Social distancing and vaccinations are the most important aspects of decreasing the spread of COVID-19. Teachers will strive to create as much space as feasible by arranging student desks and tables with as much distancing as possible and implementing assigned seating. Due to our small student population, this school year cohorts will align with the typical elementary and secondary student groupings and schedules. The average classroom size is 6 students. To ensure social distancing and balance the number and students in a classroom space, bell schedules, class assignments, teacher availability and teacher certification will be considered. Our classrooms will continue with a modified layout to ensure 3 feet between students and 6 feet between the teacher/staff and students.
CLEANING AND MAINTAINING HEALTHY FACILITIES
We will continue to practice our layered and overlapping health and safety protocols such as hand washing, cleaning and disinfecting, and improved ventilation. Hand washing and hand sanitizing will continue to be frequent and included in scheduled activities. Students will be allowed to bring in hand sanitizer for personal use only; however, hand sanitizer will be available in classrooms as well. Students will be asked to leave all unnecessary items at home and only bring items required for learning. Teachers are expected to limit community items and any shared or community items will be regularly cleaned. CSDB replaced former communal furniture with more individual options, so students have their own workspaces. Teachers and students will be expected to clean and sanitize work areas and supplies after use.
COMMUNAL SPACES
Communal spaces, such as conference rooms, lobbies, and the Bulldog Activity Center (BAC) will be included in a regular cleaning schedule. Which will include spraying of soft furniture and wiping down of hard surfaces. Traditional water fountains have been disabled and replaced with water bottle filling stations.
CAFETERIA
CSDB will continue to serve meals on-site when school is open. Health/safety protocols for students and food service staff will include hand washing or sanitizing before and after meals, and social distancing while walking to and from the cafeteria. In addition, CSDB will implement the following:
· Cafeteria meal schedules will be staggered to align with grade-level cohort bands and students will be grouped in the cafeteria by these grade-band cohorts.
· Students will maintain appropriate social distancing while going through the cafeteria line to get their food.
· Students may bring a lunch from home.
· Microwaves will be available with cleaning between grade-level band cohorts. Kitchen areas will be available to only staff.
· Menus will be posted on the CSDB website and on Infinite Campus.
· Food service staff will clean/sanitize the tables, and other surfaces throughout mealtimes, as needed.
TRANSPORTATION
Transportation will be provided from your home district per normal procedure. Home districts transportation offices will be communicating safety protocols regarding students in district cars and busses and students will be expected to adhere to district safety guidelines. Federal law requires that all individuals wear a mask on school transportation. Any changes regarding transportation will be communicated to you through your district of residence or CSDB. Bus pick up and drop off schedules will also be provided by home districts. Staff and students using CSDB vehicles will be required to wear masks.
Student Life
RESIDENTIAL PROGRAMS
Upon reopening,
· Students will be encouraged to practicing social distancing of 3 feet or more in bedrooms and common areas.
· Students will be seated by dorm units in the cafeteria.
· Cleaning will be conducted several times a day. Overnight staff will assist in cleaning/disinfecting common areas after students have gone to sleep.
· Staff and students will engage in frequent handwashing.
ACTIVITIES AND ATHLETICS
CSDB believes activities and athletics play an integral role in student health and wellbeing; therefore, CSDB will support these programs to the extent the El Paso County Health Department and Colorado Department of Public Health will allow. CSDB remains in communication with the Colorado High School Athletic Association (CHSAA) to determine appropriate programming, including practices, meetings, and competitions.
o Athletics and activities will return to normal as much as possible.
o Whenever possible large group activities will be conducted outside.
CONTACT TRACING
COVID-19 GUIDANCE
CSDB is prepared to support students and staff members who exhibit symptoms of COVID-19 or test positive for COVID-19. The Center for Disease Control established, early in the pandemic, that certain people are more at risk of severe COVID-19 infection. Some factors can make individuals more prone to the virus than others. https://www.cdc.gov/coronavirus/2019-ncov/need-extra-precautions/people… However, most importantly, students, staff, and parents must be diligent in self-screening daily. If exhibiting symptoms, stay home and consult with their health care provider to determine if they need to be tested.
If a staff member or student becomes sick while at school or begins to exhibit any symptoms:
1. In the case of a student, parents will be notified to pick-up the student immediately.
2. Supervisors must notify Human Resources immediately if a staff member becomes ill. Staff may be eligible for leave under the PHEL. Contact your supervisor or HR for more information.
3. Students sent home for exhibiting symptoms or awaiting test results will be provided remote learning opportunities while out.
4. The student or staff need to remain home until cleared to return to work or school.
If a student or staff member tests positive for COVID 19:
1. Seek medical care from your healthcare provider in accordance with CDC and El Paso County Health Department Guidelines.
2. Do not come to school until they have been cleared to do so by your healthcare provider. In most cases, this requires a 10-day isolation period.
3. Staff must remain in contact with their supervisor for guidance on returning to work.
SAFETY GUIDELINES (IN-REVIEW):
· Implement 3 feet of physical distancing at all times and to the greatest degree, wherever and whenever possible. Avoid immediate contact such as shaking or holding hands and hugging.
· Clean, sanitize, and disinfect frequently touched surfaces multiple times per day, including education tools (e.g., books, whiteboards, computers). Have adequate supplies to support healthy hygiene.
· Shared objects should be cleaned between use.
· Students will not share materials (i.e., crayons, scissors, etc.). Keep each child's belongings separated in individually labeled storage containers, cubbies, or taken home each day and cleaned.
· Teach and reinforce washing hands and covering coughs and sneezes among children and staff.
· Take scheduled breaks for hand hygiene. Post signs on how to stop the spread of COVID-19, properly wash hands, promote everyday protective measures, and properly wear a face covering.
· Continue to monitor and implement guidelines established by CDPHE.