Vision, Inform, Boost, Equity, Support
Staff -Driven Committee with a Feedback Platform for the CSDB Staff to Connect, Align, and Achieve Positive Results
#FFFFFF
      VISION
We visualize productive progress in all that we do
     INFORM
We see transparency with information
      BOOST
We strive to boost morale
      EQUITY
We promote equity within our school community
SUPPORT
We support the mental and emotional well-being of our staff
#FFFFFF
Liz Arnquist-Blind School
Dana Baldiviez-Outreach
Ian Brander-Administration
Cathy Haselhorst-Communication Team
Janey Heard-Employability
Apiricio Lynch, Jr.-Facilities/IT
Shanna Lovato-Student Life
Beth Oliver-Morale Team
Rachella Ortiz-Deaf School/Chairperson
Jessica Rogers-Equity Team
Gloria Romero-Student Services
October 2023 Pumpkin Decorating
#FFFFFF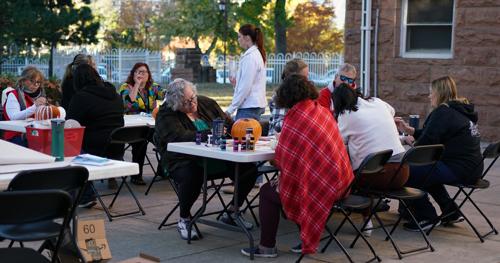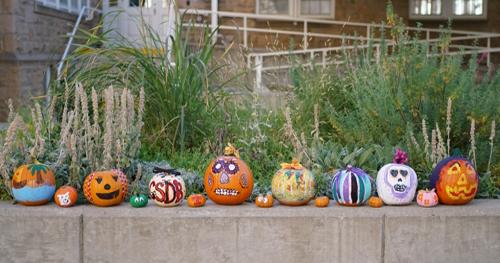 Our Mission Is To:
Provide a feedback platform for the CSDB community to identify strengths and address weaknesses.
Utilize and acknowledge the feedback from the staff suggestion form to connect, align, and achieve positive results.
Collaborate with interdepartmental representatives to promote the open exchange of ideas and evaluate procedures.
The members of V.I.B.E.S. are comprised of representatives from the following ten areas:
Blind School
Deaf School
Employability
Student Services
Outreach
Student Life
Admin (Accounting, Food Services, Human Resources, Communications, Facilities, Security, and Superintendent's Office)
Equity Team Member
Communications Team Member
Morale Team Member
V.I.B.E.S. shall make every effort to maintain diversity
A member can represent their respective department and strategic team at the same time.
A full term is two years.
Representatives will serve two-year terms, but for the first year of this committee, five predetermined *** representatives will initially serve for one year to establish "staggered terms." Staggered terms are preferred so that the committee does not get an influx of new representatives all at once. This prevents no more than half the representative terms from expiring at the same time. Also, stability and knowledge are maintained within the committee.
If this committee is to be formed in January 2021, the committee representatives will serve six extra months of the remaining 2020-21 school year on top of their assigned one- or two-year terms.
If a representative cannot attend a meeting, it is the representative's responsibility to ensure that an alternate from their area does attend.
Each representative is to obtain approval from their supervisor to be on this committee. Substitutes may need to be acquired for those providing direct class instruction. One may need to request for flex time due to differing work schedules. These potential circumstances need to be discussed with their supervisor first before they join the committee.
V.I.B.E.S will meet once monthly for two hours (2:30-4:30) during the school year. The Secretary is responsible to request an interpreter for all meetings.
At the beginning of the school year, V.I.B.E.S. representatives may volunteer or be nominated by any other V.I.B.E.S. representative for the position of Chair. The newly elected Chair will appoint the position of Vice Chair. The Chair and Vice Chair will serve for the entire school year.
The Chair shall provide leadership and preside at all meetings of V.I.B.E.S. In the event of the Chair's absence, the Vice Chair will take over the duties of the Chair.
At the beginning of the school year, the Chair will appoint a Secretary. The Secretary will be responsible for recording the minutes of all V.I.B.E.S. meetings, providing them to the Chair and posting them on SharePoint within five days of the meeting.
Each V.I.B.E.S. representative is responsible to serve as a direct communication link between their respective department area and V.I.B.E.S. A status report from each department area would be provided to V.I.B.E.S. on a monthly basis. The report would be an overview of their departmental goals, plans, challenges, as well as accomplishments.
All topic discussion questions, and employee suggestions are to be submitted in advance. These questions / suggestions must be reviewed with the Human Resources Director in advance to identify any potential issues that may relate to confidentiality, personnel information, and/or legality. Once approved by the Human Resources Director, the questions will be shared with V.I.B.E.S. by the Chair and the committee will vote on how to best approach each question. This is to maintain transparency, promote a sense of community, and recognize staff expertise. The question may be sent to the Superintendent for her input in advance. An invitation to a future meeting may be sent to bring in a person who has expertise on the topic to help answer questions and provide deeper context. V.I.B.E.S. may do its own research, make the recommendation, and send it to the Superintendent for her final decision.
A specific email address has been set up – VIBES@csdb.org for those who may want to submit their employee suggestion forms and/or bring up any other topic questions. The employee suggestion form will be posted on SharePoint for download. The V.I.B.E.S. Chair will have access to this email address.
Issues with other staff members and contractual issues will not be addressed by V.I.B.E.S. These should be overseen with their immediate supervisor and/or Human Resources, as appropriate.
Download the form to complete.
The employee suggestion form can also be found on the SharePoint home page under CSDB Connections on the right side, bottom of the list.
Please review the V.I.B.E.S. procedures before you submit the suggestion form.