February 2023
The dorm students made the most of the school closure last week. Thanks to the amount of snow that landed on campus, they were able to enjoy sledding for the first time this year. Students were excited to get their safety gear on and sail down the big hill on campus. We're getting the word it may snow again today!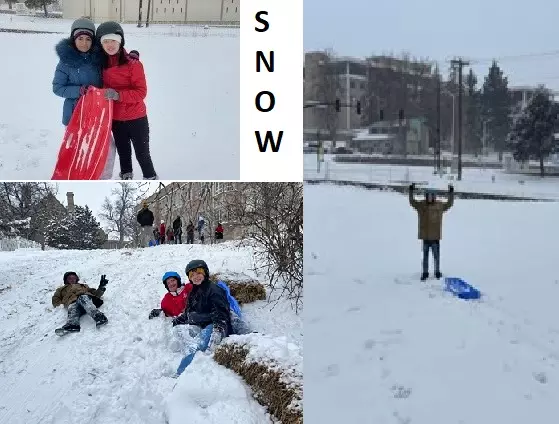 February 2023
The recap of our amazing Goalball team, this season began in late October and ended in January. The team practiced and showed Bulldog pride by attending tournaments in Texas and New Mexico and competing at CSDB's Homecoming. The team was so happy to be able to visit new cities and have so many new experiences. The Goalball team made an amazing effort, was motivated, and had the pride to cheer the team on in a successful season.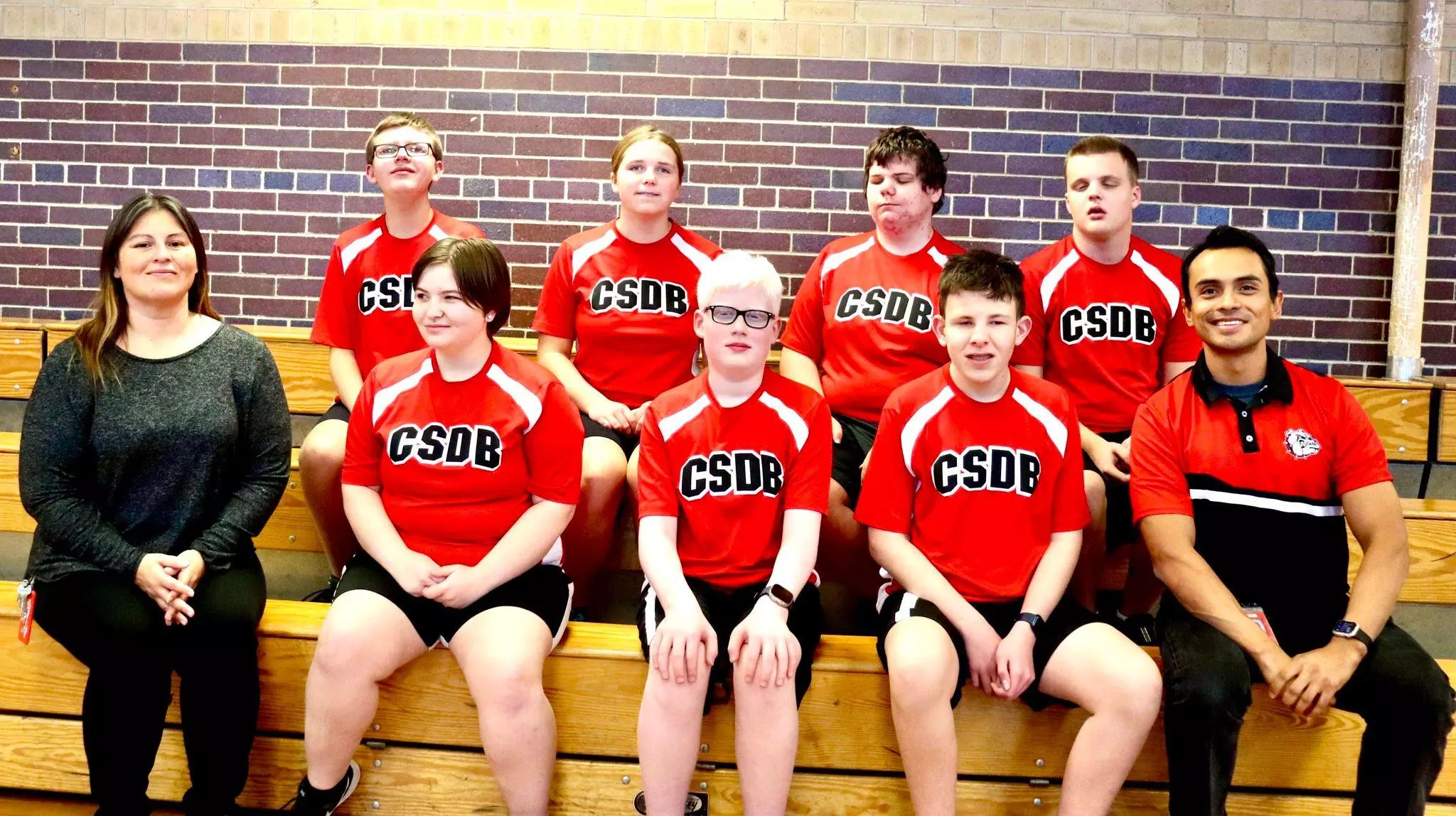 February 2023
Our academic bowl team traveled to the Oregon School for the Deaf for the West Regional matches. The team did an amazing job, we played in 5 matches, and every student did an incredible job answering challenging questions and scoring lots of points. Huge congrats to one of our players, Rashad Ali, he won the Rising Star Award! The Rising Star Award is given to a first-year AB player that shows great enthusiasm and shows the best effort over the weekend. Congrats to Rashad!
There was much more than just the matches through the long weekend, the students enjoyed every minute of the weekend of meeting new people from 20 different schools, meeting Gallaudet University officers and recruiters, attending the Oregon School for the Deaf's infamous Nightmare Factory Haunted House, bowling, socializing, and appreciating the nature of northwest Oregon.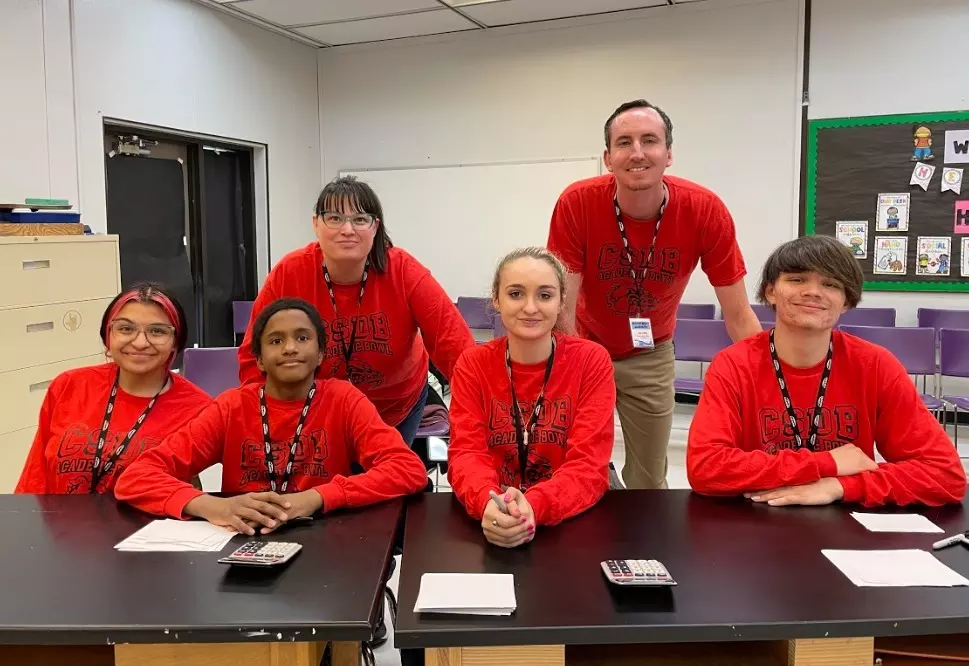 High School Girls Basketball
February 2023
CSDB traveled to Iowa School for the Deaf this weekend for the Great Plains Deaf School, GPSD, Basketball & Cheerleader Tournament. We got 5th place! We lost the first game by one point against Iowa, then lost the second game by 4 points against New Mexico and then won the third game against Minnesota by 32 points. So proud of our bulldog team!
Three of our girls as well were recognized as All Stars of the Tournament - Rosa Molina Orantes, Grace Shular, and Nyla Stingley.
This is a great accomplishment, CSDB is so proud of our girls team bringing back the consolation champion trophy back home! Go Bulldogs!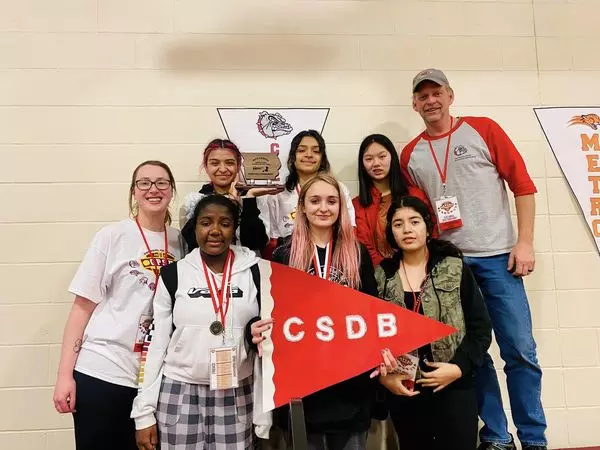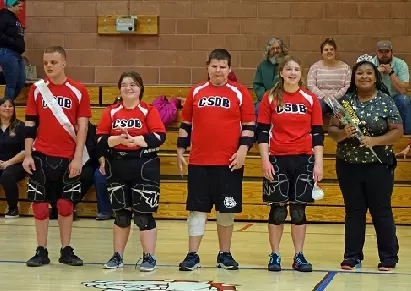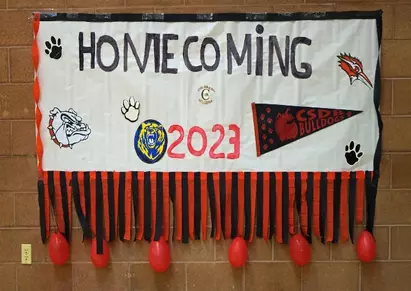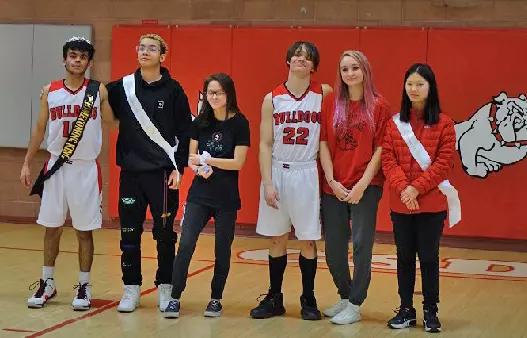 December 2022
The residential students took a trip to the Cheyenne Mountain Zoo to experience the electric safari and visit with the animals, at night. The zoo was lit up with large animal fixtures and colorful string lights. Students really enjoyed being able to feed the giraffes and the birds.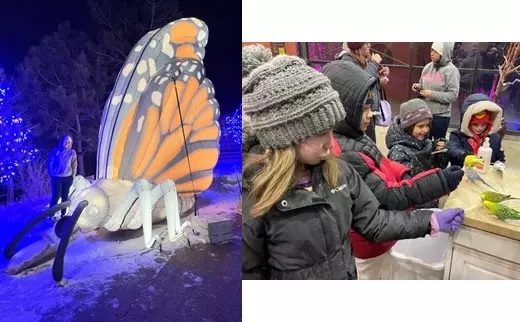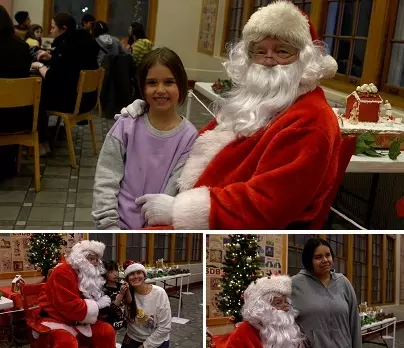 Student Life Holiday Dinner
December 2022
CSDB Student Life programs held a Residential Holiday Dinner last week, complete with Santa. Happy holidays!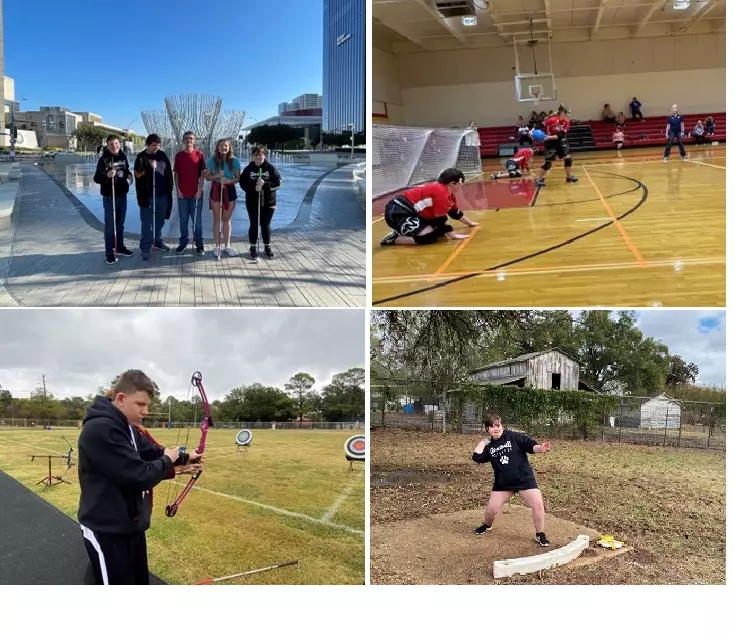 November 2022
Our goalball team traveled to Dallas, Texas for a Sports Extravaganza weekend. They competed in a goalball tournament, experienced different sports like archery and shot put, and visited a park in downtown Dallas.
October 2022
Congratulations to the Special Olympics Bowling team! Last Saturday, they won four first place ribbons at the Regional Meet!
September 2022 
Athletics Schedule for the Week:
Monday- High School Home Volleyball Game vs Thomas MacLaren School, 5:00pm;
Wednesday- CSDB home volleyball game vs Cripple Creek, Middle School 4:30, High School 5:30, Watch in person, or view the high school game live on the CSDB YouTube Channel;
Thursday- CSDB home volleyball game vs Liberty Tree Academy, Middle School 4pm, High School 5pm
Good luck, Bulldogs!
What a Week in Student Life!
September 2022
What a week! Many activities on campus. Middle school Volleyball won their game on Monday. Flag Football returning on the football field on Wednesday. HS Volleyball had their practice at a sand court. Elementary Outdoor Adventures went to Panorama Park. Special Olympics begin their Bowling this week. Go Bulldogs!
August 2022
Students who are Deaf, in grades 2 through 5, are having a great time touring area parks and hiking trails as part of the Afterschool Outdoor Adventure club, each Wednesday. They are also looking forward to an opportunity to fish, play kickball, and celebrate a "Water Fun" day, over the coming weeks. Students are enjoying the fresh spring air and social opportunities as they practice their PRIDE behaviors in a big group.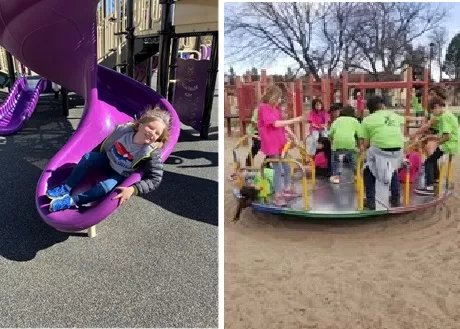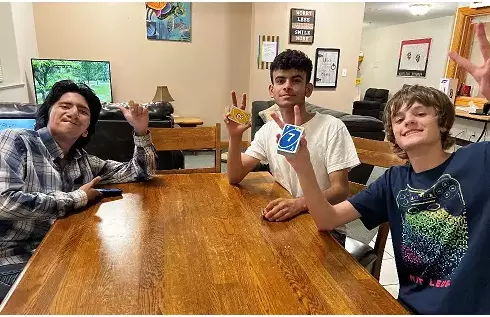 Student Life Back in Session
August 2022
The first week back to school for Student Life is always a blast. Students get to see their friends after a long summer break, and we welcome new students to our school.  In the photo, three older boys play Uno at an indoor table. The competition in the boys dorm is always fierce but at the end of the night, we are all still friends!
Welcome to the 2022-2023 School Year
May 2022
Residential students showed off their "skills on wheels" during the end of the year skate party at Skate City. Our more experienced skaters try to help the newer ones find their footing. The smiles are sure to last well into the summer!
May 2022
Residential students and staff enjoyed burgers and dogs fresh off the grill during the "39th Annual Sam's Barbeque." Sam Blake is a retired CSDB staff member who returns to us every spring to cook for the students. 
After dinner in the courtyard, everyone enjoyed yard games, water balloons, and shaving cream fights to celebrate our dorm seniors and the end of another school year!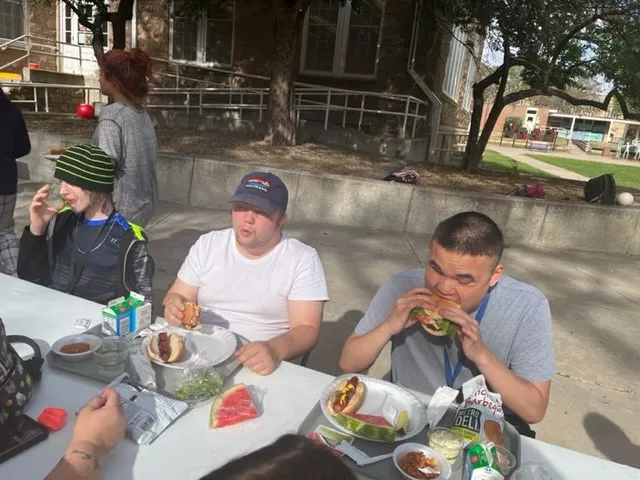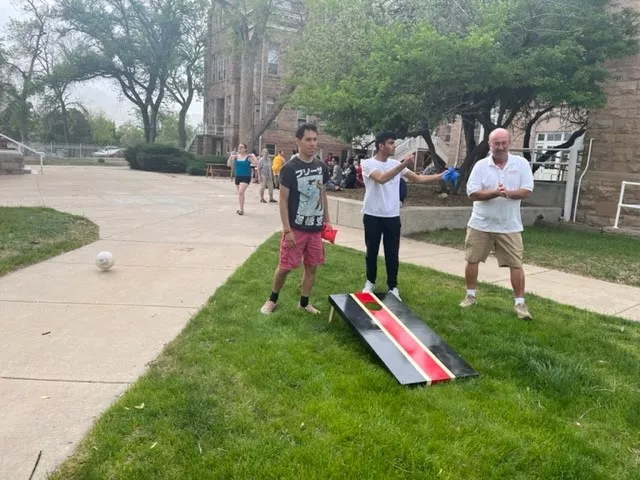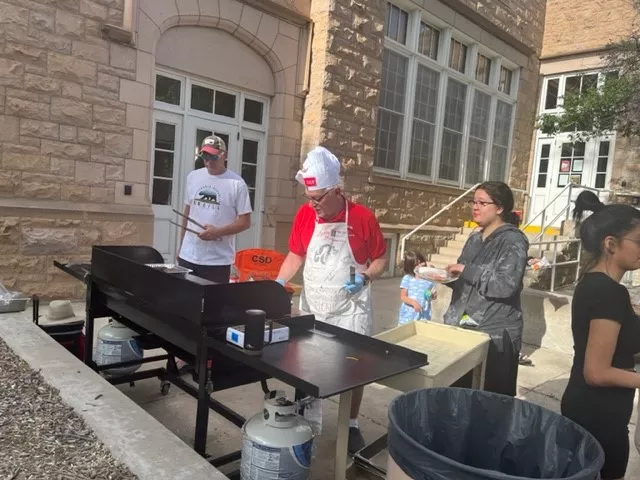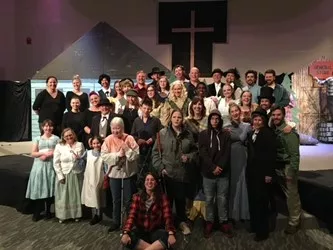 April 2022
Blind residential students attended a musical called "Seven Brides for Seven Brothers". The musical was filled with sound effects, songs, and dancing. During intermission the students were given the opportunity to explore the stage along with all the props. One student was able to experience the intracity of working behind the scenes. He was able to watch them control the spotlight, sound board and all the other fascinating effects that took place during the musical.
Bridges to Life Dorm Activities
April 2022
Bridges to Life (BtL) students enjoy singing and signing songs together, during dorm karaoke events. They also participate in crafts, game nights, and educational workshops including apartment finding, accessing technology, and proper cleaning techniques. Inclement weather days provide opportunities for baking, conquering puzzles, and snow shoveling, to help our Facilities team! Students who are blind/visually impaired also participate in a scheduled zoom program called LEAP, which allows students to socialize with other students to develop interpersonal and social skills.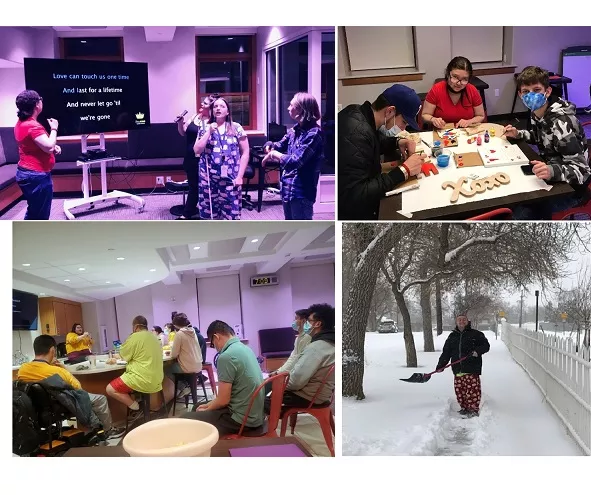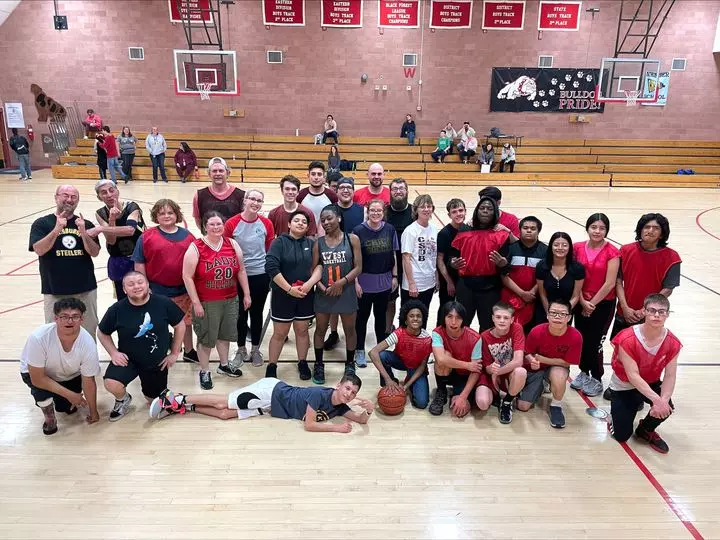 Staff vs. Student Basektball
April 2022
CSDB students challenged the staff at basketball last Tuesday after school.
Perfect Day for a Bike Ride!
February 2022
Yearning for warm, outside fun? Me, too! Found this gold nugget video that makes me feel warm in my heart and happy!
Staff vs. Student Volleyball
March 2022
We had a Staff vs Students Volleyball last night, was a lot of fun playing with girl varsity team and then Coed students. A great way to connect staff and students on one court.
Thanks for organizing this fun event, Max Wilding! So great to get staff and students together, this way.