#FFFFFF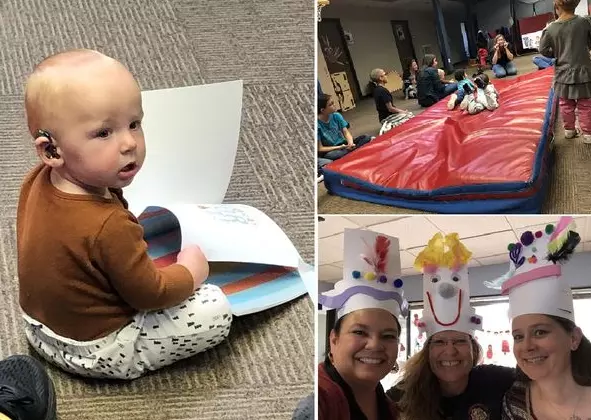 Music, Movement, Stories and Education!
November 2022
The children who attended the recent Northern Colorado Early Literacy event were all smiles; so fun to see so many little fingers signing, voices singing and all communicating with each other! Jami Fries, Director of @coloradohandsandvoices joined us to share information about supports and resources available to families through Hands and Voices. It was wonderful to see parents, children, and professionals all connecting with each other!
We look forward to the next event in February to bring Northern Colorado Families back together again!
#FFFFFF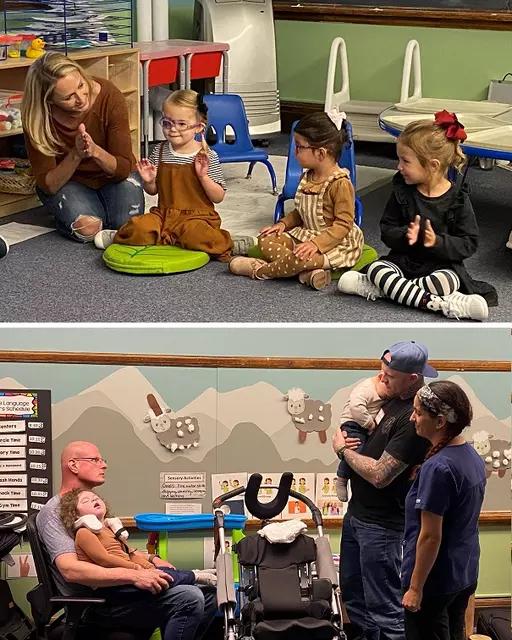 November 2022
Recently, Outreach Programs hosted a Fall Festival for families with young children, who are blind or visually impaired, in our newly renovated toddler room on campus.  Six families with a total of eight children attended and engaged in fall-themed literacy, art, and music activities.  Children enjoyed a variety of opportunities for exploratory play, while families developed and extended meaningful connections around shared experiences.  One parent commented: "We brought our 16-month-old toddler, who is blind, to the Fall Festival event at CSDB, and it was one of the first times that we've felt like a normal family with a normal kiddo. It's refreshing to be able to go to an event that is relevant to your child and where he is at developmentally and with his visual impairment. It's also invaluable to be around families who "get it." We loved the creativity and thought that went into the event, and you could tell our kiddo did, too. We look forward to more events that we can take our little one to and get to know the campus and other families who have similar experiences. Thank you!"
#FFFFFF
October 2022
The Little Language Learners (LLL) bilingual toddler playgroup is off to a great start. We have 8 families for our fall session and we are loving our new toddler space and equipment! Our first two themes have been focused on learning our body parts and learning about our feelings. We have read the books, "Here Are My Hands" and "The Feeling Flower" to help us identify parts of ourselves and how we are feeling. We use songs to get our wiggles out and the Hands Land ASL program to lean ASL rhymes and rhythms. We have been painting pictures of our bodies, making faces with playdough, cutting and hole punching, matching pictures and learning new vocabulary words each week. We have a sensory table for new textures, a light table with changing colors, a little literacy library and a dramatic play center to activate our little minds.
The "Coffee and Conversations" parent portion of LLL has been a lively and supportive place to discuss weekly triumphs and seek feedback with challenges. We have learned potty training basics, new related vocabulary and learned about language patterns and rhythms to help with daily schedules and predictability. We have laughed hard and lifted each other up all while taking a breather with a hot cup of coffee.
This group is the MOST FUN and good for the soul. Stop in on Friday mornings and play with us.
Written by Abby Killam, LLL Teacher
#FFFFFF
August 2022
Come play with us!
A play group for families with children, ages 18 months to 3 years old, who are Deaf or Hard of Hearing.
What:
· Weekly opportunities to promote and balance your child's language development in both American Sign Language (ASL) and spoken English.
· Play-based approach to support implementing ASL and spoken English into your everyday activities and routines.
Where:
· Colorado School for the Deaf and the Blind – Check in with a photo id at the front administration building.
Who:
· Children who are deaf and hard of hearing, ages 18 months to 3 years old, and a parent or caregiver.
Coffee and Snacks will be provided!
Fall Schedule:
9:30 am to 11:30 am
Dates:
Friday, September 9
Friday, September 16
Friday, September 23
Friday, September 30 - No LLL
Friday, October 7
Friday, October 14
Friday, October 21
Friday, October 28
Friday, November 4
Friday, November 11
Friday, November 18
Lead teachers:
Abby Killam and Jennifer McLellan
719-578-2100
#FFFFFF
August 2022
Once Upon a Sign By Jennifer McLellan, Colorado School for the Deaf and the Blind Outreach Programs
Storytime in American Sign Language and spoken English bond the Deaf and Hearing communities, giving children the answers to the biggest questions of language and life. Stories define us, shape us, and create us.
Storytime through ASL helps children expand listening skills and comprehension. It also increases their ASL proficiency.
Larissa Powers, Pikes Peak Library District Librarian in Colorado Springs, notes the positive feedback the program has received.
        We love this program! We come every month!
        We couldn't find a library offering anything like this in our state, so we attend virtually every month, from New York.
"Feedback like this is what drives our collaboration between the Pikes Peak Library District and the Colorado School for the Deaf and the Blind as we continue to offer our monthly "Once Upon a Sign: ASL Storytimes," says Powers. Our goal: Offer a fun and exciting early literacy experience for deaf and hearing families alike, and to build a foundation for lifelong ASL learning and early literacy.
The program features bright and colorful books chosen for their vocabulary, their engagement potential, and how much we enjoy them! Families who join learn new signs related to the stories, wiggle and move their bodies, and see their favorite stories signed by a Deaf role model. At the core of the program is attention to the fundamentals of early literacy and engaging children to learn and grow in multiple languages at once. Families who attend ASL Storytime can take away new ways to communicate together as they say "See you later, Alligator".
Parent and attendee Britni Day shared what the program means to her family and relates it to her life experience.
"Sieben, acht, neun, zehn," I repeated after my elementary school teacher. I learned to count and do math in German before English, as I was enrolled in a German immersion school from first through 6 th grade. Reading books and playing games had a lasting effect on my life. I see this as I seek out people of different cultures, continue to use my language skills, and spend time with new people as they share their language and culture with me. I had always hoped for these experiences for my children but never dreamed we would be so beautifully thrust into learning American Sign Language (ASL) when our daughter was born hard of hearing. Each touch point with ASL and the wonderful people who speak it draws us into this community that has become so precious to us. One of those touchpoints is the Once Upon A Sign program from the Colorado School for the Deaf and the Blind (CSDB) and the Pikes Peak Library District.
Coming into the room, I already know that getting my four kids back into the car when it's time to head home will not be easy. They know we are here to see our Deaf teacher share a story, but they are in for so much more. My shy one lingers in the wagon. Friendly faces greet us while signing "hello," and the rest of the event draws them in until each child is signing with new friends — both kids and adults. We are guided into a welcoming atmosphere by Deaf role models where play happens but learning is hidden just beneath the surface. As they play and watch the story being read each inhales the language in its most natural form, mastering the art of being patient. They are training their minds to notice the differences and similarities in people and to celebrate them. I see them bonding not only with each other but also with the amazing role models who are giving graciously of their time. My shy child gets out of her comfort zone of the wagon and flourishes because of those who see her and meet her where she is. She starts to sign despite her insecurity.
Each interaction creates stories that will be retold and cherished during the car ride home. My children will show me the new signs they learned and "help" me if I'm "wrong." Learning to sign isn't just something mom and the Deaf instructor made up. For our hard of hearing child, these touchpoints are critical for her to thrive as she learns to navigate her world. She won't learn it without seeing ASL repeatedly in different settings. But as she sees more deaf and hearing people sign, she has become more comfortable. These reading events give her that opportunity.
On the way home, I reflect on our journey. My daughter has learned that she is not alone. Her hearing sisters have learned how to care for her and engage with her even when she can't hear them in the ruckus and chaos of the room. They learned to sign with her and our baby as they have seen so beautifully modeled for them at the library. Watching different people sign helps them to see the "accents" of the language. Confidence is acquired. Relationships are built. You can't help but be drawn in by the language, by the environment, by the people. These events and this community show them that their fears or misconceptions are worth overcoming. As I think back to sitting in that room, watching deaf and hearing people conversing together, I am reminded of the history of Martha's Vineyard. And I wonder if I'm gently brushing up against what it would have been like for those 200+ years there where deaf and hearing people lived and communicated without barriers. My children came with curiosity but left the Once Upon A Sign event with so much more."
Editor's note: McLellan is the Colorado Shared Reading Project Liaison, Literacy and Language Instructor Consultant, and Early Literacy Lead with the Colorado School for the Deaf and the Blind. She thanks Parent Britni Day and librarian Larissa Powers for contributing to the article.
#FFFFFF
July 2022
Wednesdays in the Park, an Outreach program, brings families of young children, who are Deaf/HH or Blind/VI, together with CSDB staff and role models for learning and fun!
[Video is audio described, captioned and has background music.]
#FFFFFF
July 2022
For many of us, summertime means parks, picnics, and gatherings. For families and Deaf and Hard of Hearing or Blind and Visually Impaired children, Wednesdays in the Park, hosted by the CSDB Outreach programs, is special! Families and children get the chance to enjoy their time in the parks and meet other friends who have Deaf and Hard of Hearing or Blind and Visually Impaired children.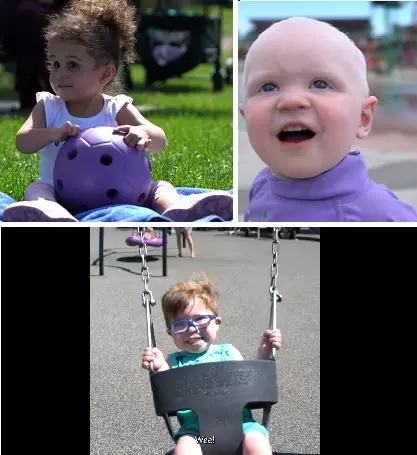 #FFFFFF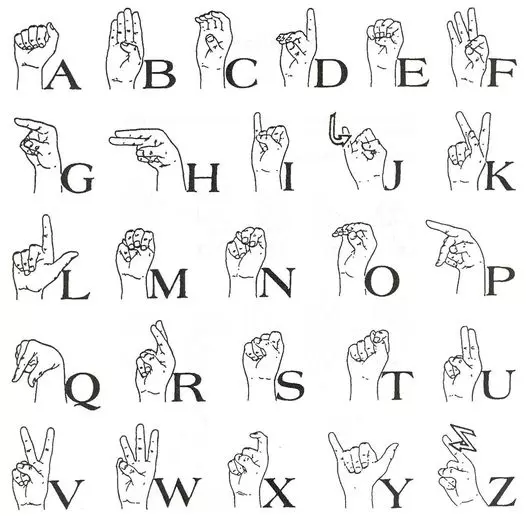 June 2022
Did you know CSDB offers community ASL classes? ASL classes are held for the community and individuals interested in learning American Sign Language (ASL) basics. Click the link for more info!
#FFFFFF
May 2022
Deaf Safari Day at the Denver Zoo!
More than 1,500 families, adults and children who are Deaf explored the zoo and visited vendor booths, including the CSDB booth! 5 staff from Outreach and The School for the Deaf represented CSDB to share information and connect with families! The excitement for being back in person, and at this event was overwhelming! We look forward to the next event!!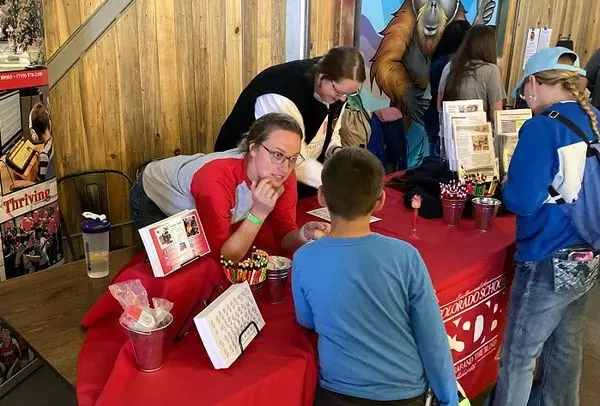 #FFFFFF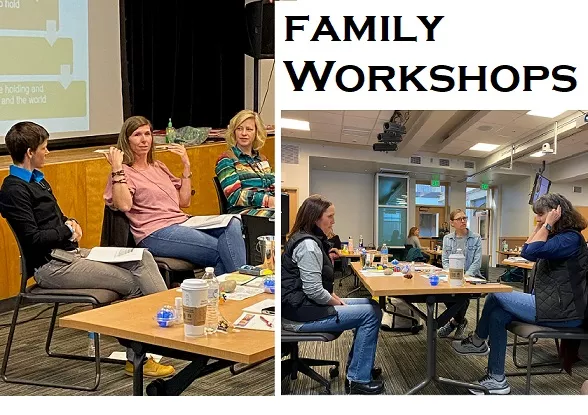 Outreach Workshops for Families
May 2022
CSDB received a grant from Colorado Early Hearing Detection and Intervention (COEHDI) to provide four workshops to professionals who work with families who have children who are deaf and hard of hearing, birth to age 3. Early Intervention providers have indicated a desire for "more in depth knowledge" for topics related to mental health, communication with families, research to application, and communication options. We worked with a variety of presenters to attempt to meet this need: Heather Abraham provided a workshop on Foundational Coaching Tools, Dr Leala Holcomb and Michael Higgins with Hands Land provided a workshop on ASL Play, Kimberly Sanzo provided a workshop on Evidence Based ASL-English Early Language Intervention, and we finished the year with Holding Space with Jessica Dallman, Elizabeth Seelger, and Leigh Hardin.
Sixty-eight unique providers participated in these workshops, three via zoom, and one in-person! It was an honor to receive this grant, and we are confident providers took multiple nuggets away to be able to apply to practice and programs!
#FFFFFF
Grand Junction Community Event
May 2022
Grand Junction here we come! 
Outreach is loading up the van and traveling to GJ.  Outreach Programs in collaboration with Mesa County School District 51 is hosting a community event on May 21, 2022 at the Eureka! McConnell Science Museum.  Participants can visit the museum, enjoy story time, and related literacy activities.   Role models who are Deaf and Hard of Hearing will be present along with Deaf or Hard of Hearing resources.  Mesa County School District will provide lunch for the event.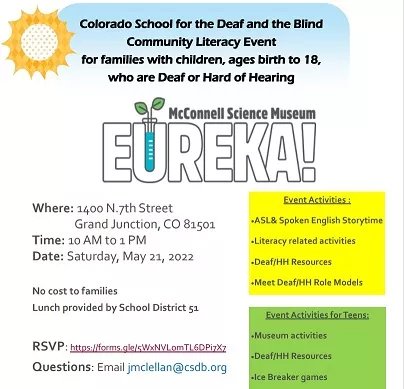 #FFFFFF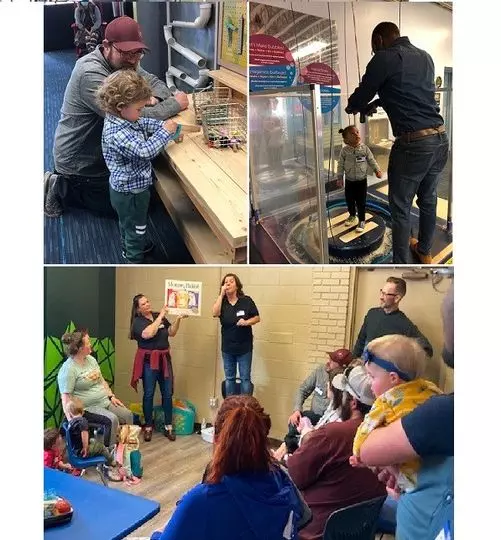 April 2022
Families gathered, recently, for the Early Literacy Event at the WOW Museum, in Lafayette, for a fun and creative afternoon. Families enjoyed time together in person, many meeting for the first time, others re-connecting after meeting at online events.
Everyone enjoyed story time with Ms Kim, participating, practicing signs, and loving the book Mouse Paint. Music time with Ms Amy was filled with movement, songs and smiles and was a fun way to get some wiggles out. Children and parents explored the museum and all of the fun and creative exhibits it offered. Parents unanimously agreed that it was a successful and fun event, we all look forward to the next one!
#FFFFFF
April 2022
Families in the Pikes Peak region gathered at Little Monkey Bizness for an in-person CSDB Outreach early literacy event for children who are deaf or hard of hearing, ages 0-5.
Seventeen families as well as professionals from community agencies gathered for play time, a story presented in both ASL and spoken language (English and Spanish), art and connecting with each other. It was a great evening with smiles and laughter all around, as families enjoyed reconnecting in person.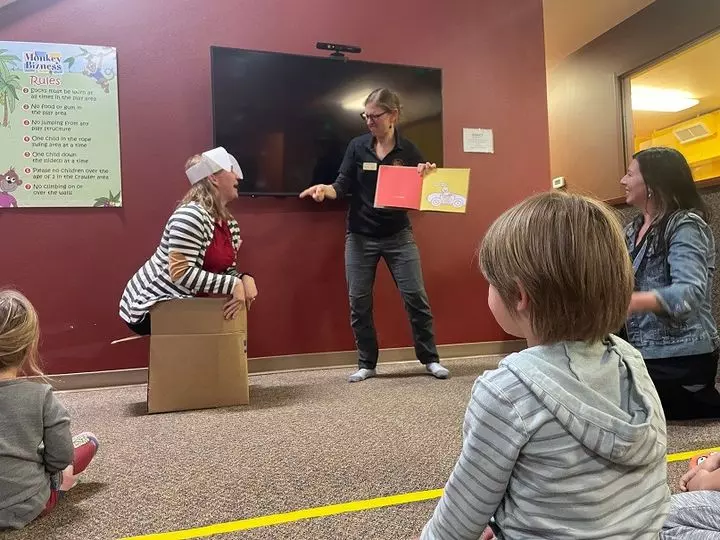 #FFFFFF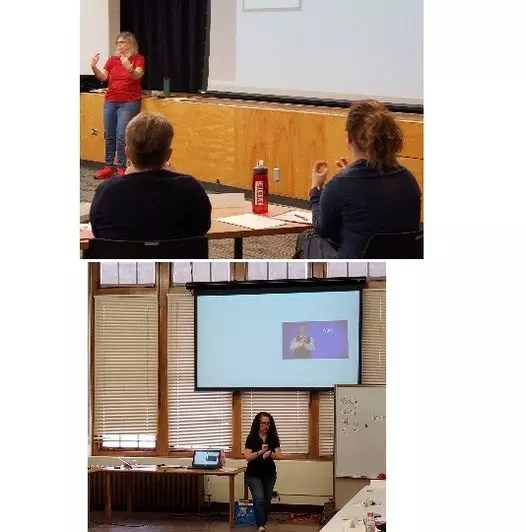 April 2022
The CSDB Outreach programs for "All Things ASL" have a lot going on, including the Colorado Shared Reading Project (CSRP), Tele-ASL classes, ASL Immersion for Professionals and Community ASL Classes! https://csdb.colorado.gov/all-things-asl
#FFFFFF
March 2022
The recent CSDB Outreach (Birth-3 years) Early Literacy event was a huge success! 13 families, from all over the state, join us for this event. Families participated in story time with Kim reading the book "From Head to Toe" by Eric Carle, Audra taught signs and did an ASL chant with the families, Amy lead us in fun songs related to the book and everyone participated in literacy activities with Robin and Kelly. It was fun to see families connect with each other as well, there were a lot of smiles for this Friday evening event!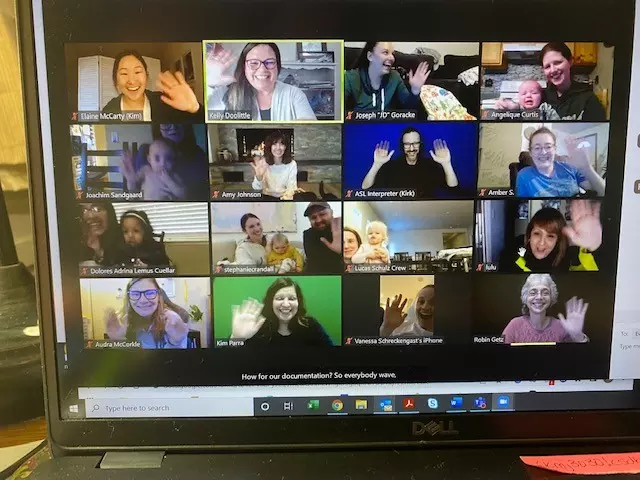 #FFFFFF
Pikes Peak Library Storytime
March 2022
The CSDB Outreach team partnered with the Pikes Peak Library District to bring a story time for young children using American Sign Language and English. Many Colorado Springs families attended!
#FFFFFF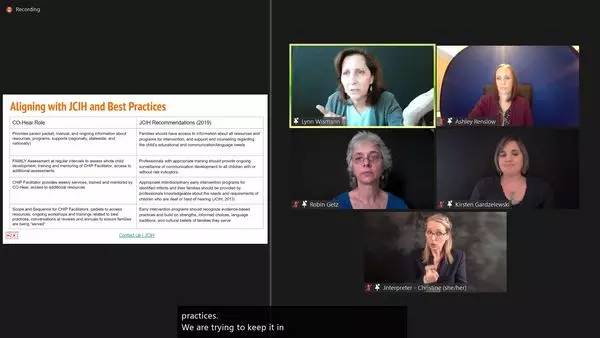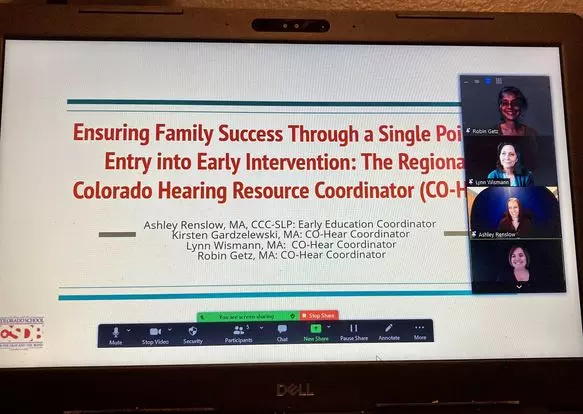 2022 National Early Hearing Detection and Intervention Colorado EHDI Alliance Meeting
March 2022
Congratulations to CSDB Outreach staff, Ashley Renslow (Early Education Coordinator), Kirsten Gardzelewski, Lynn Wismann, and Robin Getz (CO-Hears) for presenting at the 2022 National Early Hearing Detection and Intervention Colorado EHDI Alliance meeting. The focus of the presentation was on the role of the CO-Hear as the single point of entry into early intervention services. Best practices, resources, collaborations, and aligning with the Joint Commission on Infant Hearing (JCIH) recommendations (2019) were highlighted!
While this was a 30,000 ft view of the program, the feedback has been very positive! What a great team!
#FFFFFF
March 2022
Read Across America Day brought together CSDB students along with students from other schools (virtually) to enjoy stories and crafts.
#FFFFFF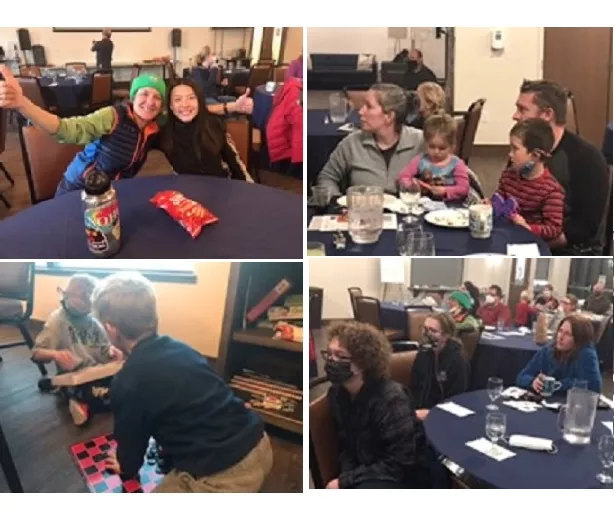 Outreach Hosts Ski Fun at Steamboat
February 2022
A CSDB Outreach event, that has been three years in the making, came to fruition, recently. Eight families and two panelists were hosted by Steamboat Adaptive Recreational Sports (STARS) in Steamboat Springs, Colorado, for three days of connection, learning, and fun.  The participants, deaf/hard of hearing children ages 6 months-17 years, were treated to a day of ski lessons and opportunities to connect and play with other children.  Likewise, their parents and siblings made connections with others who have similar life experiences.  The panelist, Ally Bleidt and Nadelle Payne, shared about their experiences growing up with a hearing difference and answered questions from several parents.  The connections made and the support shared was the highlight of the weekend! 
#FFFFFF
February 2022
Why did people gather in West Hall, yesterday? The CSDB Outreach department shared some light-hearted fun with their Baked With Love contest.
Members of the Outreach Team made sweet treats, and staff from a variety of departments sampled and voted for their favorite!
Teresa Kilbury, who works in the Colorado Instructional Materials Center (CIMC) took the prize! Her cheesecake bites with chocolate covered fruit "won the hearts of many."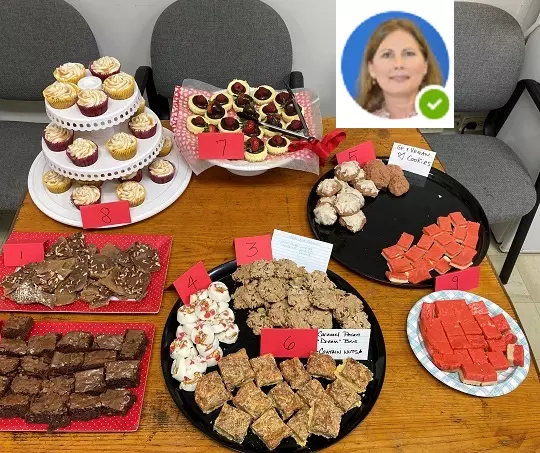 #FFFFFF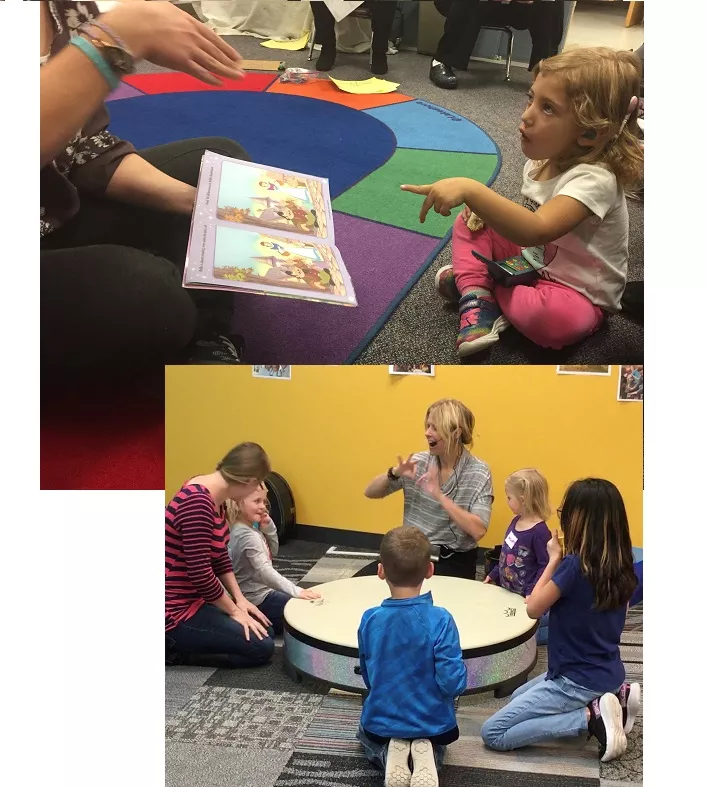 Early Literacy Events for D/HH
January 2022
Early Literacy Events are offered to families who have children who are Deaf or Hard of Hearing, birth to age 5, across the state. Each event provides families with a rich literacy experience and strategies to promote their child's language and literacy development.  Families actively participate in storytime presented in ASL and spoken English, music and movement, ASL chant and rhythm, and have opportunities to meet professionals in the field and other families. Join us this Spring for a variety of events! Make sure to sign up to receive the event information! For questions, contact Jennifer McLellan, jmclellan@csdb.org
For upcoming events, click https://csdb.colorado.gov/outreach/early-literacy