Class of 2023-Mariah Gonzales
May 2023
Celebrating a member of the Class of 2023, Mariah Gonzales. Congratulations!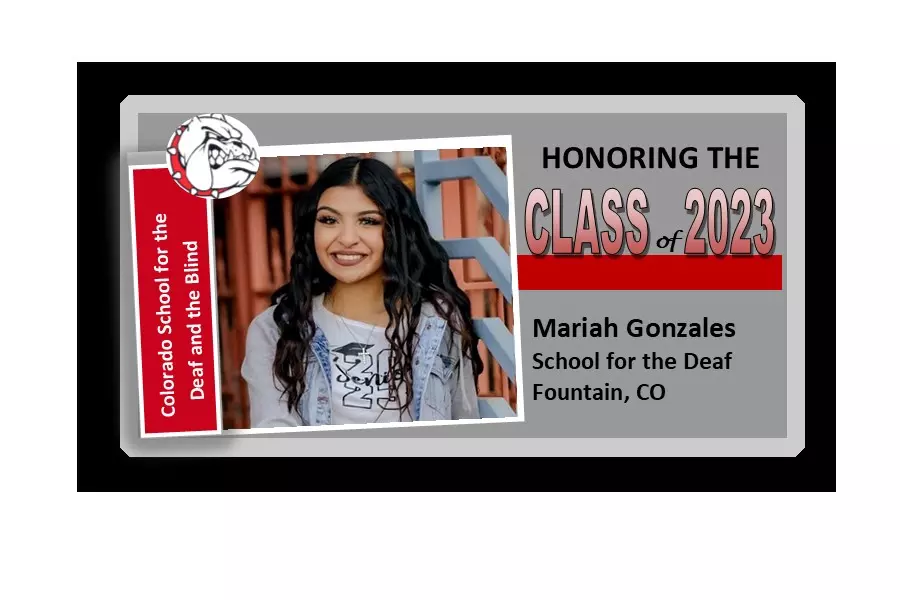 Class of 2023-Daisy Martin
May 2023
Celebrating a member of the Class of 2023, Daisy Martin. Congratulations!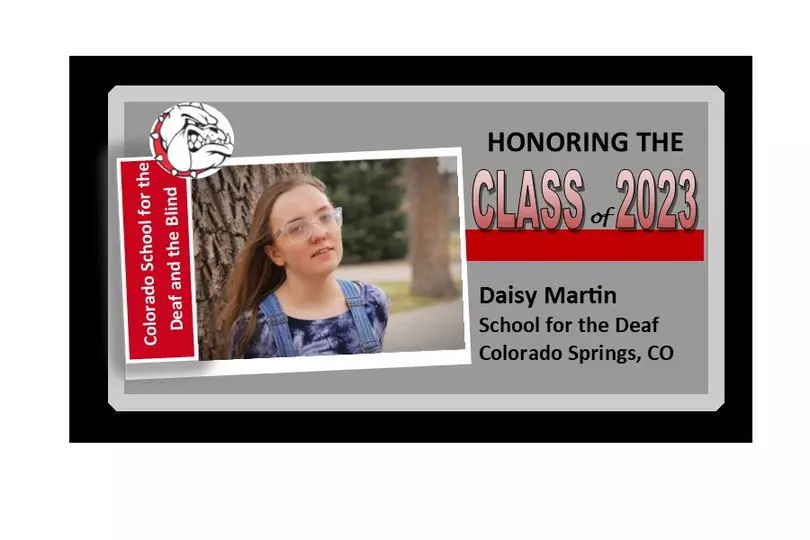 February 2023
In the School for the Deaf, Alma Sicinski's elementary students use magic analog clocks as a magic multiplication strategy to learn the multiplication facts 3-8 quickly.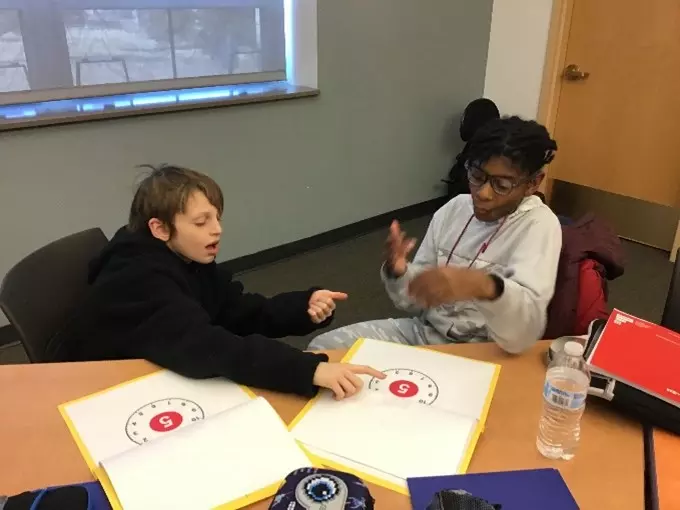 February 2022
Oh yeah, we think outside the Bach's. (a music pun :))
Yesterday, our music therapist, Julie, and our music therapy intern, Adrianna, presented their School for the Deaf middle school musicians. The performance included a student keyboardist playing Beethoven, two duets with electric guitar and drums, and drum soloists. It was a joy to be in the audience and to receive the gift of music.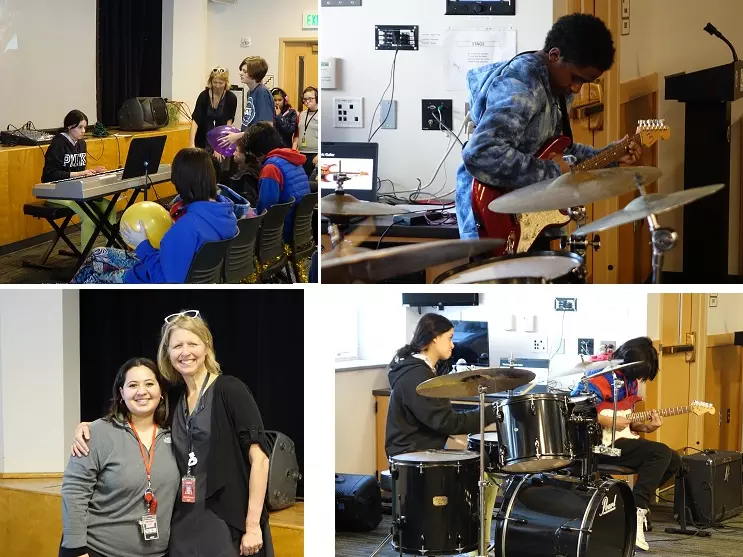 January 2023
Students, in the School for the Deaf, are now visiting our new location for the CSDB library. Tracy Ross's English classes will be going weekly in order to check out books! This was our first week visiting and checking out books to use during our D. E. A. R. (Drop Everything And Read) time in class. The students are excited to read the variety of books that are available.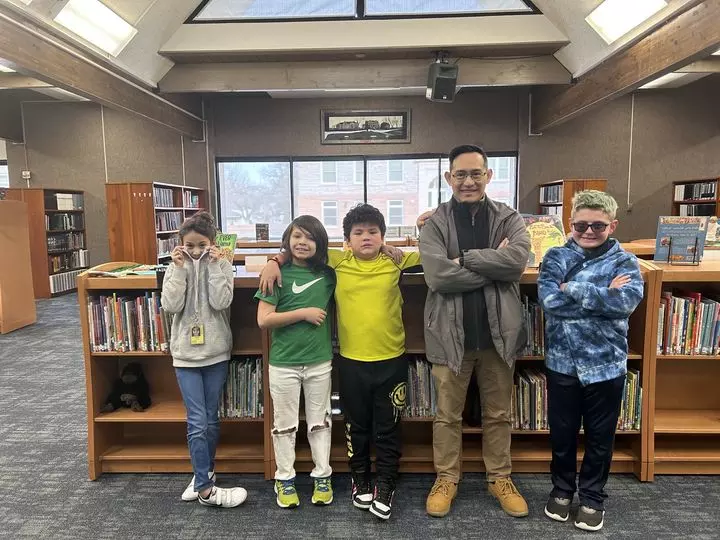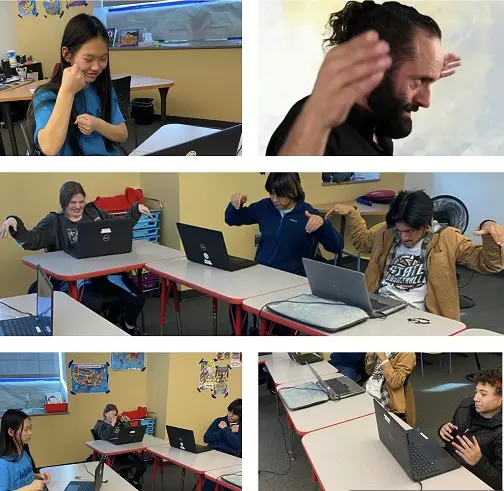 December 2022
In the School for the Deaf High School English classes, students have been learning about figurative language, personification, and metaphors oh my! In these photos, the class is practicing their poetry and personification skills by mirroring an ASL poem by Ian Sanborn called, "Caterpillar". The smiles and enthusiasm are contagious as the students also play handshape games and have fun with their language.
November 2022
Sweet!
Young student, in the School for the Deaf, proudly holds up his heart art that has three "I Love You" handshapes coming out of the heart. Student grins happily.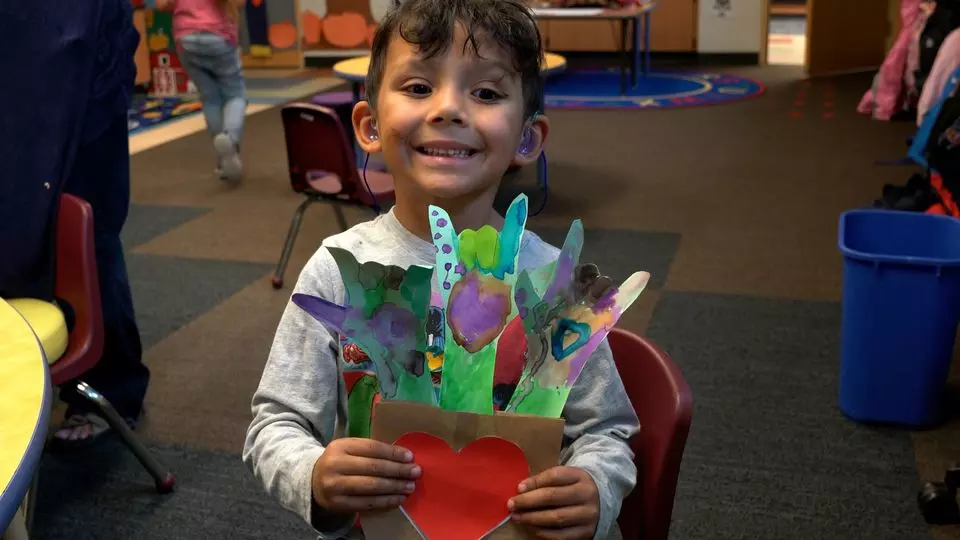 November 2022
Bulldogs Space Center! Introducing our new theme for the School for the Deaf Play-Based Learning Center - the Bulldog Space Center, where our Little Dippers can learn through space exploration. -School for the Deaf Instructional Coaching Team.
November 2022
In the School for the Deaf, Kindergarten and 1st grade class, students have been enthusiastically learning about farm animals, where we get our food and milk, and what life is like on a farm! We concluded our learning by attending the Colorado Kids Ranch located in Monument on a field trip! There were farm animals and the kids got to feed the chickens and goats! There were even pretend cows so students could get a feel for what it would be like to milk one! We took a hay ride, explored the haystack tower, the obstacle course, the tube slide and even a playpen filled with corn kernels!
The students absolutely enjoyed Halloween dressed in their fabulous costumes, participating in our annual CSDB parade and we went trick or treating around the campus! We had a wonderful storyteller, Jennifer Mclellan, share a Halloween story with K- 5th graders!
We moved on to learn about the Day of the Dead. Families sent in a photo of an ancestor and students were busy making tissue paper colorful picture frames for them. They learned what an ofrenda is and made craft flowers and candles to set one up. Students decorated sugar skull cookies and set them on the ofrenda as well before gobbling them up for their afternoon snack! The pumpkins that were brought back from the farm, students enjoyed bedazzling and painting skeleton faces on them! To wrap up our learning students sorted Halloween and Day of the Dead symbols into a Venn diagram to see visually what is different and the same between the two holidays!
We will be moving onto exploring places in our neighborhood and community heroes and there is even a play-based Bulldog Pizzeria set up in our classroom! Come in for a visit, they would love to take your order, make your pizza just how you like it and then of course, demand that you pay the cashier working that day!
by Ms. Rachella Ortiz
October 2022
Check out our Halloween Costume Parade, CUTE!
Music Therapy Strategies at CSDB
October 2022
Written by Julie Harrison, CSDB Music Therapist
A young woman holding a guitar meets a student at her school bus. The student finds it difficult to transition into the school day, and music is one of the supports she needs. The woman plays songs the student has come to associate with easing into the day. Erin smiles and begins to pat her legs. She rolls into the school building in her wheelchair.
Music therapy is a research-based health profession in which a board-certified music therapist uses music interventions to reach non-musical goals in a non-threatening environment with people of all ages and abilities. Music therapy can benefit in any setting, such as academic settings and medical settings. Music therapists work towards academic, communication, cognitive, behavioral, social and motor goals.
Music therapists, such as the one in the above story, are trained to utilize the captivating elements of music to help students with non-musical tasks such as transitions, learning the braille code, utilizing their assistive communication devices, and reinforcing Orientation and Mobility, Physical Therapy and Occupational Therapy goals. 
CSDB has one certified music therapist who serves as our music educator, and a music therapy intern serving students until January.  The educator/therapist often co-treats with other professionals at the school and supports academic teachers with their IEP goals. She serves the School for the Blind and the School for the Deaf. This month, she will serve the Outreach department by supporting their family programs.  While we do not currently provide one-to-one music therapy services, we incorporate music therapy strategies in all music education settings. Music is a powerful tool for many of our students and can help our students thrive and achieve at CSDB.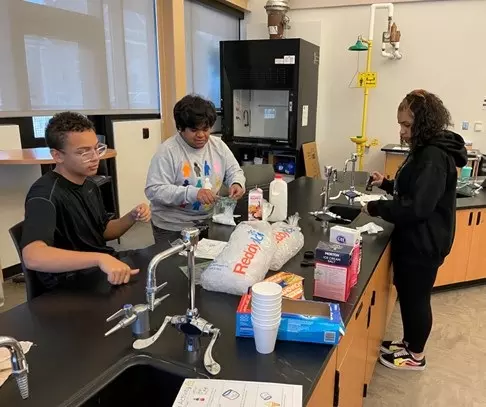 October 2022
YUM!
Physics students, in the School for the Deaf, are learning about properties of matter, as well as physical and chemical changes as they make their own ice cream.
October 2022
Kaela Mangiaracina, one of our elementary teachers, has a background in filming and SFX (special effects makeup).  This year Kaela is teaching an elective drama class with our elementary students.  This week she has been teaching kids how to do makeup and special effects makeup, in class.  The students are completely captivated and loving it!
Social Studies Class-Landforms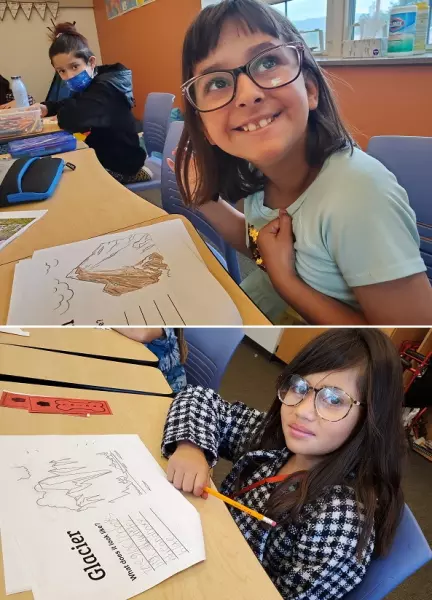 September 2022
The 1st and 2nd grade class this year, in the School for the Deaf, is starting off shooting for the stars!!!! After a few weeks of assessments and getting to know each other, students are getting right back into the swing of things.  In math class they are reviewing counting and skip counting. They have been playing games like race to 100 and working together to skip count to solve mazes.  For literacy, our class has been exploring the solar system.  We are looking at non-fiction text features and making connections to the materials they are learning about. They are reading books about the planets, sun, moon and stars.  In the coming weeks we will be making some fun crafts for the phases of the moon and learning more about astronauts and their jobs.  This past week we made hats of the planets and the order they occur in the solar system.  Students thought it was so funny that the solar system was bigger than their heads because their hats kept falling off their heads!
Welcome to the 2022-2023 School Year!
July 2022
Remarkable creativity! Thank you to Jerry and the Colorado Springs Stormwater Enterprise as well as our CSDB art teacher, Allie Unker, for bringing this opportunity to #CSBDBulldogs students.
July 2022
Check out Murder on 5th Avenue, a production by CSDB!
Congratulations students in the School for the Deaf, and teacher, Julie Harrison, writer and director, for a terrific production! Huge thanks to students at Cherry Creek High School for voicing the characters who use American Sign Language.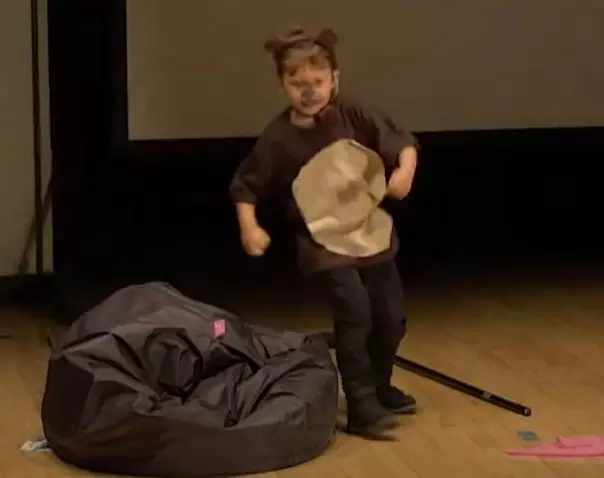 June 2022
A full audience watched the School for the Deaf Elementary Spring performance, yesterday. If you missed this cute show, here's the link! https://youtu.be/7pozxbb6rHA