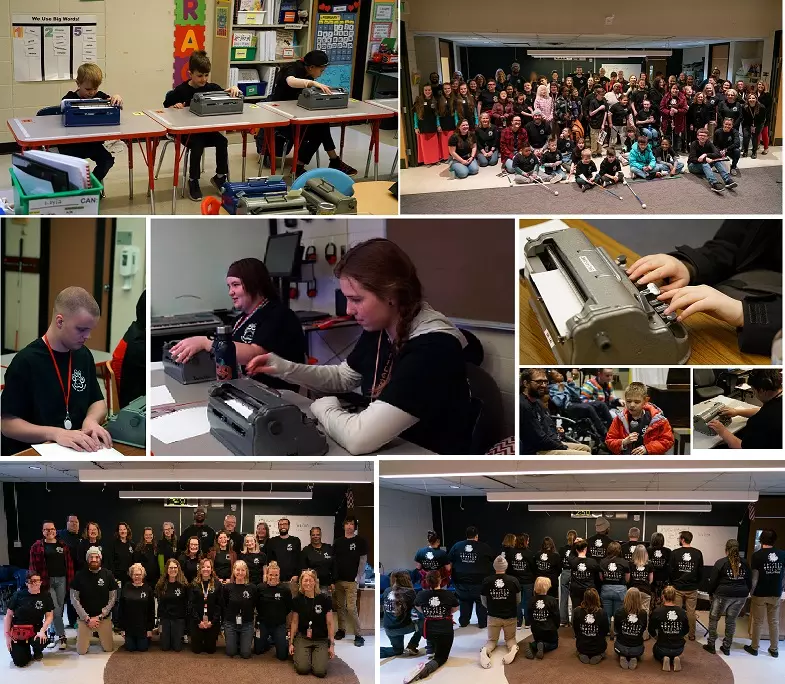 January 2023
Students from the School for the Blind art class hosted an Artist-in-Residence from the Colorado Springs Fine Arts Center at Colorado College. The artist was joined by Michael Christiano from the FAC, as they taught the students about clay. What a terrific partnership!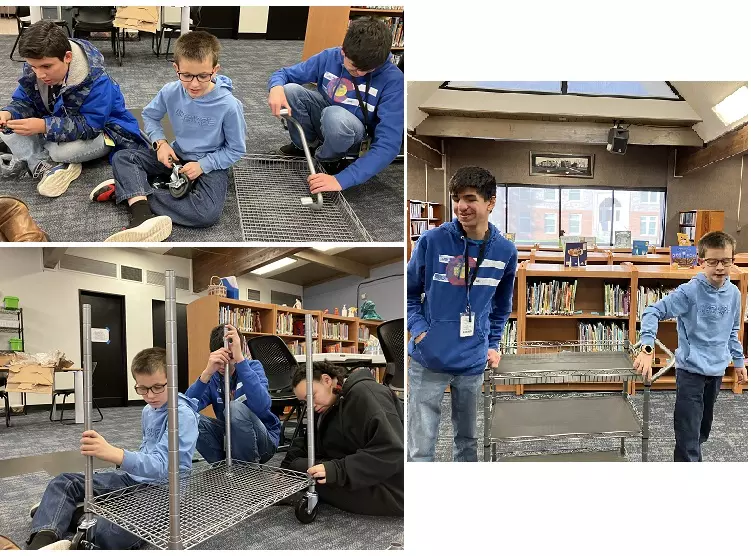 December 2022
It's an "Add to Cart" kind of day!
Students, in the School for the Blind, used tools and parts, as well as a heap of critical thinking, to put together a utility cart. Great independence, #CSDBBulldogs!
October 2022
Check out our Halloween Costume Parade, CUTE!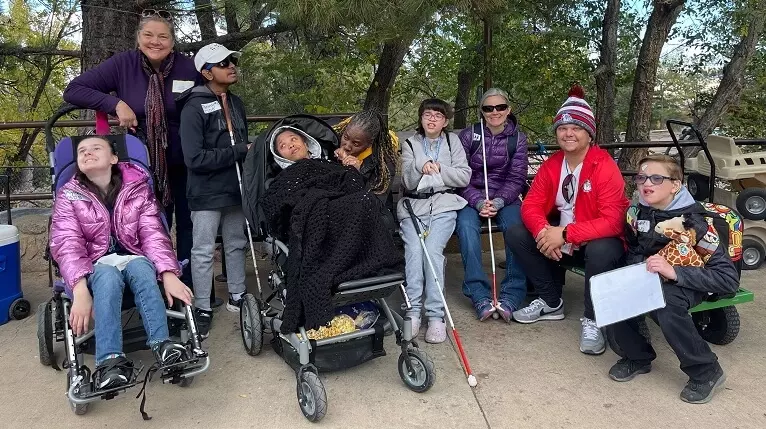 October 2022
Students in Grant Kraus' School for the Blind class explored the Cheyenne Mountain Zoo, recently. The students gained background knowledge through touching skin textures, shapes and sizes of animals and experiencing zoo smells. Thanks to Grant for the photos!
Music Therapy Strategies at CSDB
October 2022
Written by Julie Harrison, CSDB Music Therapist
A young woman holding a guitar meets a student at her school bus. The student finds it difficult to transition into the school day, and music is one of the supports she needs. The woman plays songs the student has come to associate with easing into the day. Erin smiles and begins to pat her legs. She rolls into the school building in her wheelchair.
Music therapy is a research-based health profession in which a board-certified music therapist uses music interventions to reach non-musical goals in a non-threatening environment with people of all ages and abilities. Music therapy can benefit in any setting, such as academic settings and medical settings. Music therapists work towards academic, communication, cognitive, behavioral, social and motor goals.
Music therapists, such as the one in the above story, are trained to utilize the captivating elements of music to help students with non-musical tasks such as transitions, learning the braille code, utilizing their assistive communication devices, and reinforcing Orientation and Mobility, Physical Therapy and Occupational Therapy goals. 
CSDB has one certified music therapist who serves as our music educator, and a music therapy intern serving students until January.  The educator/therapist often co-treats with other professionals at the school and supports academic teachers with their IEP goals. She serves the School for the Blind and the School for the Deaf. This month, she will serve the Outreach department by supporting their family programs.  While we do not currently provide one-to-one music therapy services, we incorporate music therapy strategies in all music education settings. Music is a powerful tool for many of our students and can help our students thrive and achieve at CSDB.
October 2022
Recently, the School for the Blind students and staff visited the North Pole in Cascade, Colorado. Many giggles were had while students enjoyed a variety of rides and it felt like we were really hiking to Santa's House. Our students loved the magical experience and whimsy. They even got to meet Santa! This activity is an example of a recreation and leisure skill, one of nine life skills kids with visual impairments and multiple disabilities learn through the Expanded Core Curriculum. 
Liz Arnquist, School for the Blind TVI
September 2022
Coming October 14th! Join us in Colorado Springs at Acacia Park to celebrate White Cane Day.
September 2022
CSDB students recently celebrated International Dot Day. International Dot Day is named for the Peter H. Reynolds storybook "The Dot." The book shares the story of a girl who begins a journey of self-discovery after a caring teacher challenges her to "make her mark."
September 2022
To celebrate White Cane Day, we are selling shirts and sweatshirts so you can show your White Cane Day pride!  I have included some information about White Cane Day, and below that are some pictures of the shirt/sweatshirt and a link to order. You can find all the information through each link. The shirts are the same design we sold from 2019-2021 but the sweatshirt is a brand new design! Usually, during White Cane Day it is a little cooler outside so we thought the sweatshirt might be a nice addition. The order will close on September 20. Everyone will pay individually though each link. Unfortunately, I couldn't combine the links so if you want both you must order them separately. If you have them shipped here, shipping is free. If you choose to have it shipped elsewhere you will have to pay for shipping.
This year we will be celebrating White Cane Day at Acacia Park downtown on October 14 (weather permitting). The ceremony, which will include a performance by the Bulldog Band, will take place from 10-11:30 and is open to the public so if you want to join us, come on down!
When President Lyndon B. Johnson proclaimed in 1964 that every October 15th will be celebrated as White Cane Safety Day, he stated, "The white cane in our society has become one of the symbols of a blind person's ability to come and go on his own. Its use has promoted courtesy and special consideration to the blind on our streets and highways."
Every year on this day we celebrate the white cane as a symbol of blindness and a tool for independence as well as the achievements of people who are blind or visually impaired.  This is also a day when we emphasize White Cane Law which varies by state.  In Colorado, it states "Drivers and pedestrians, other than persons in wheelchairs, to yield to persons with disabilities." White Cane Law has been central to the safety of people who are blind or visually impaired as they travel and go about their daily activities.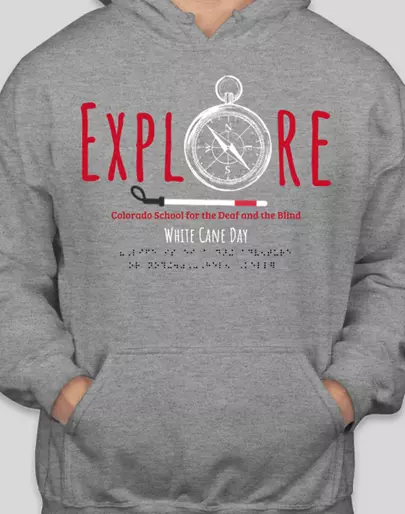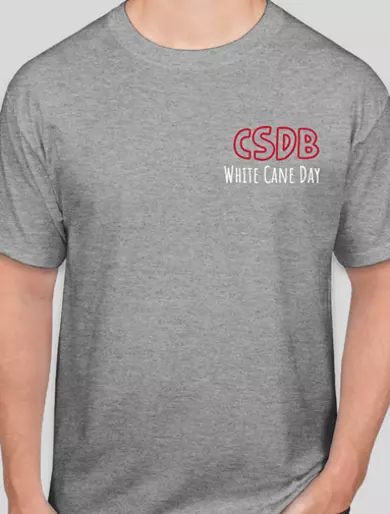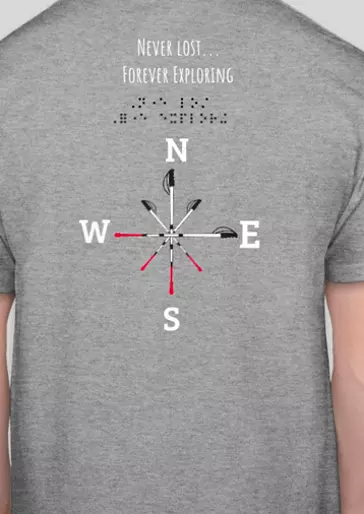 If we exceed the predicted number of orders and a profit is made on the sale of these items, that money will go into a School for the Blind event fund. 
Thanks for helping us celebrate White Cane Day!
Literacy Skills at the Tip of Your Fingers
August 2022 
For blind students, their biggest barrier to reading isn't only conquering the laborious task of learning braille. They struggle with the prerequisite skills and overall comprehension as well. However, because of the lack of incidental learning that they are able to gain understanding through, the use of real objects greatly increases their chances of understanding.
            I created a Real Object Library that is housed in my classroom. This library is a collection of real objects, known and unknown to students, that I will use to help build background knowledge, hands-on experiences, and make abstract concepts concrete. The use of these objects not only keep students engaged, but helps build their overall understanding of a story. It helps them connect meaning to real objects and tools related to stories. I've found it to be a great tool for my blind students and also my students who are more successful with visual cues to trigger their memory of a story.
            When introducing a new story, pre-teaching is key for my students. This concept refers to hitting those big concepts or topics before reading the story and expecting students to gain understanding immediately. During this phase of teaching, I heavily rely on real objects to begin priming my students and setting the intention for reading.
            In this library, I will also house previous materials I've made for lessons in case they would be beneficial in a later lesson. Last year, my youngest group of kiddos learned all about prairies and the concept of underground tunnels. Pictured is a model I created to solidify their understanding of the concept.       
Of course, some stories and concepts are more abstract than others, which may limit the amount of real objects I can incorporate. I try to think outside the box when I can. However, most of the time, I am able to really immerse my students in hands-on experiences to aid their overall understanding of a story and hopefully make reading less laborious in the process!
Written by Grace Gundel, Teacher of the Visually Impaired, CSDB Elementary
Welcome to the 2022-2023 School Year-1st Day of School
The Life of a Braille Book...From a Request to Student's Hands
August 2022
It takes a lot of skilled people to get a braille textbook under the fingertips of a student on the first day of school. A certified braille transcriber uses braille translation software to manipulate an electronic file of a book, applying strict formatting guidelines established by the Braille Authority of North America. A variety of textured paper, string, and objects are used to turn pictures, tables, and graphs into tactile graphics to be felt by the reader. A certified braille proofreader checks for braille accuracy before the file is sent to a braille embosser which pushes and presses braille dots onto both sides of thick perforated paper which is separated and bound into volumes about 2 inches thick.
With significant funding from the Colorado Department of Education (CDE), the Colorado Instructional Materials Center (CIMC), part of the CSDB Outreach Department, assists all Colorado school districts fulfill their requests for approximately 500 braille textbooks and novels each school year. The full transcription of a braille textbook populated with mathematic equations, maps, or scientific illustrations can take up to two years to complete and be comprised of up to 100 volumes.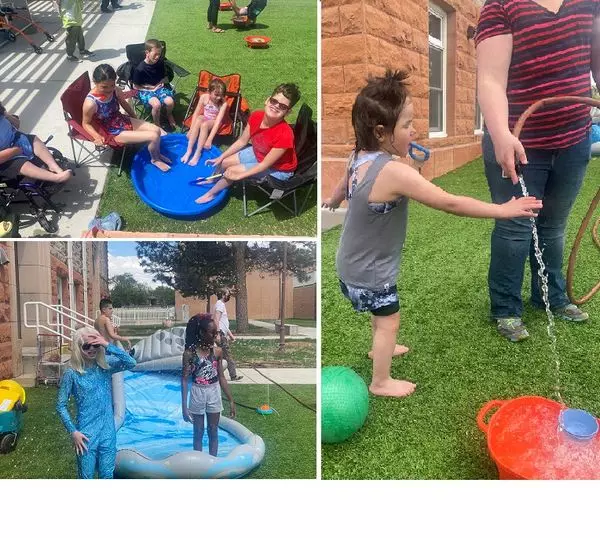 June 2022
Water Day! in the School for the Blind Elementary. Perfect sunny day to play.
June 2022
The School for the Blind elementary team hosted a camp out afternoon. This afternoon included campfire songs, smores, yard games, movement activities, and campfire stories. Students also learned about backpacking tools such as bear spray, bear barrels, jet boils, water filters, headlamps, lanterns, and camping stoves.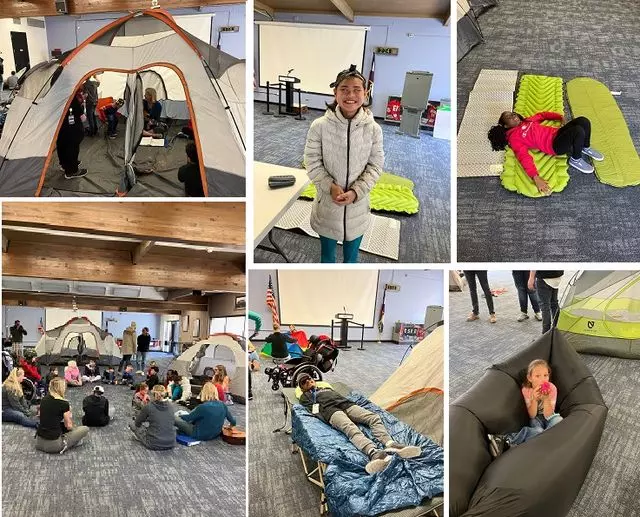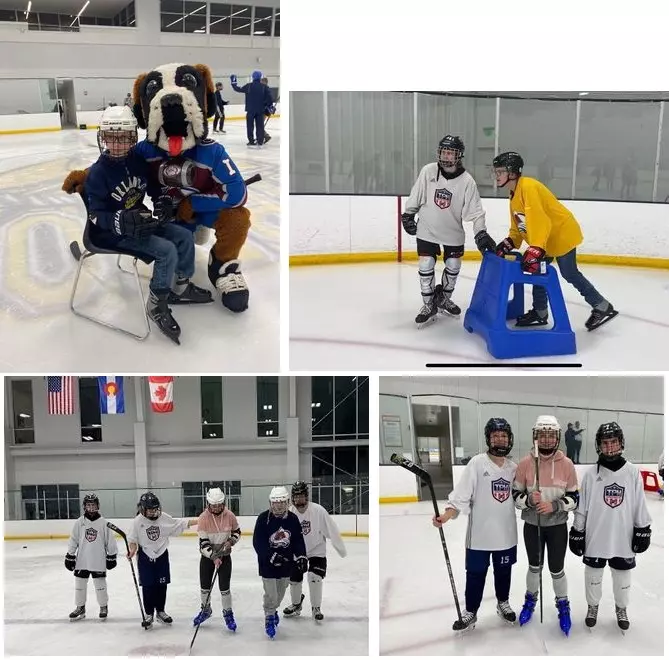 June 2022
A group of students, in the School for the Blind, learned how to play hockey at an event sponsored by the Avalanche and Delta Dental. Students learned about equipment, safety gear, how to skate, and even played with a puck that was adapted with sound! At the end of the event students had a chance to meet a few former Avalanche players for photos and autographs!
Big thanks to the Avs, Delta Dental, South Suburban Sports Complex, and TPH Center of Excellence for a great event! Let's Go AVS!!! COLORADO AVALANCHE FANS Colorado Avalanche @DeltaDental @SouthSuburbanSportsComplex TPH Center of Excellence
Graduation-Class of 2022!
Congratulations Class of 2022!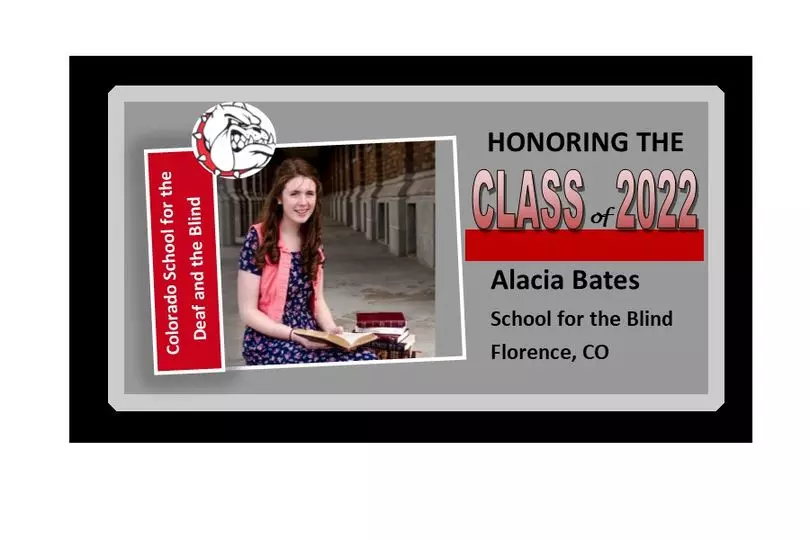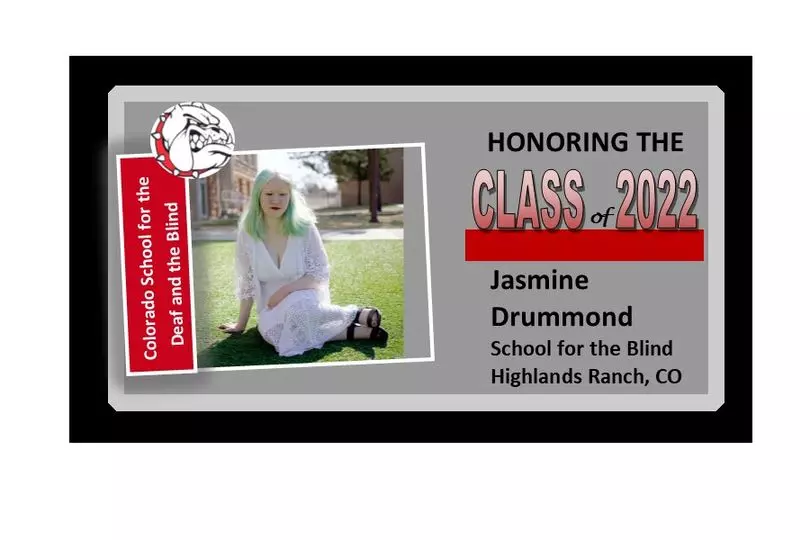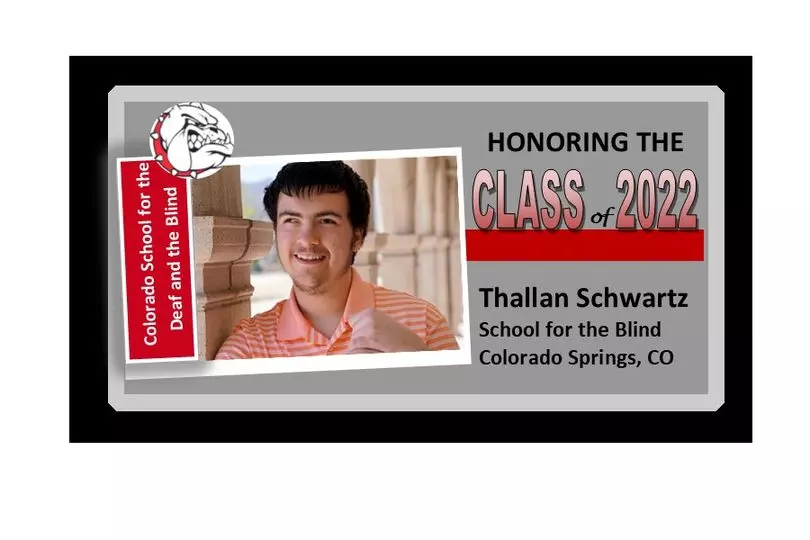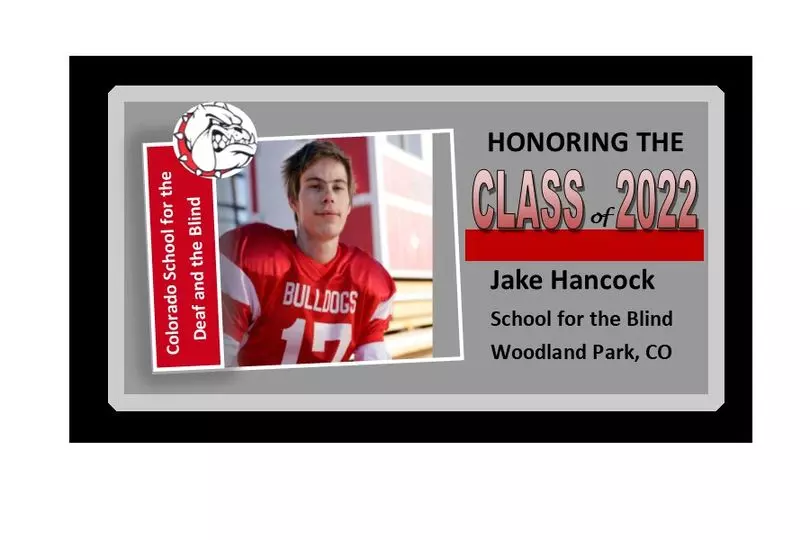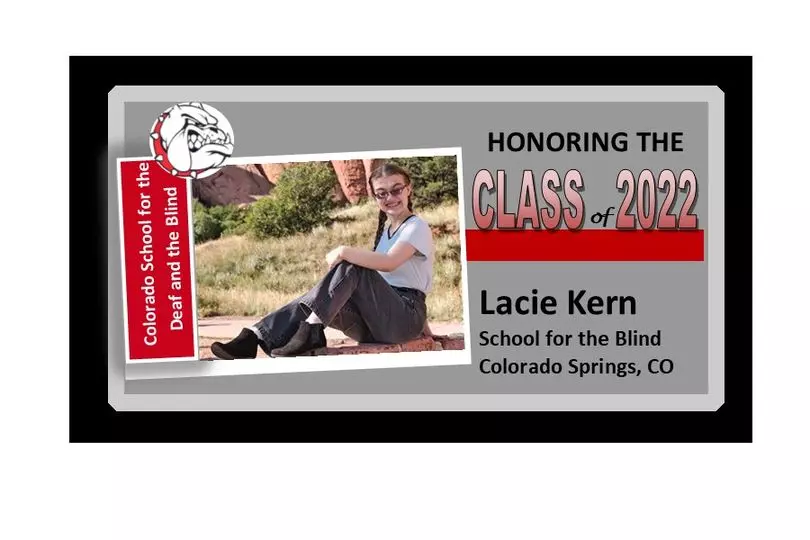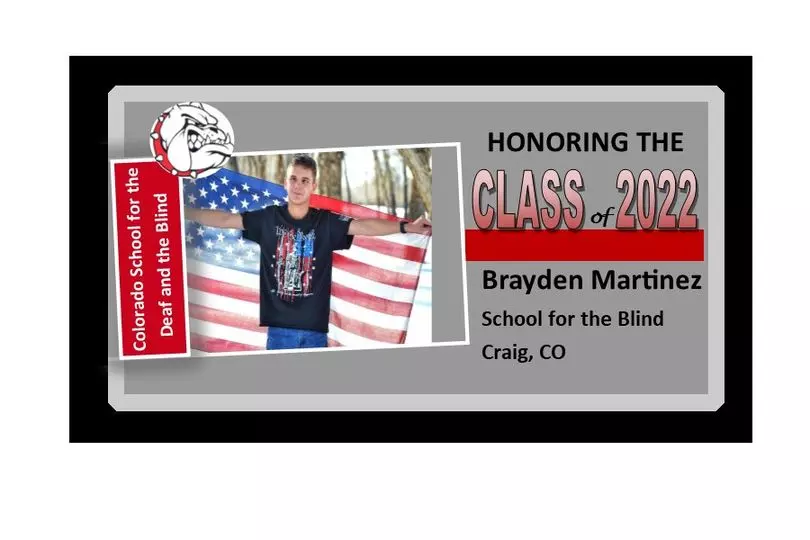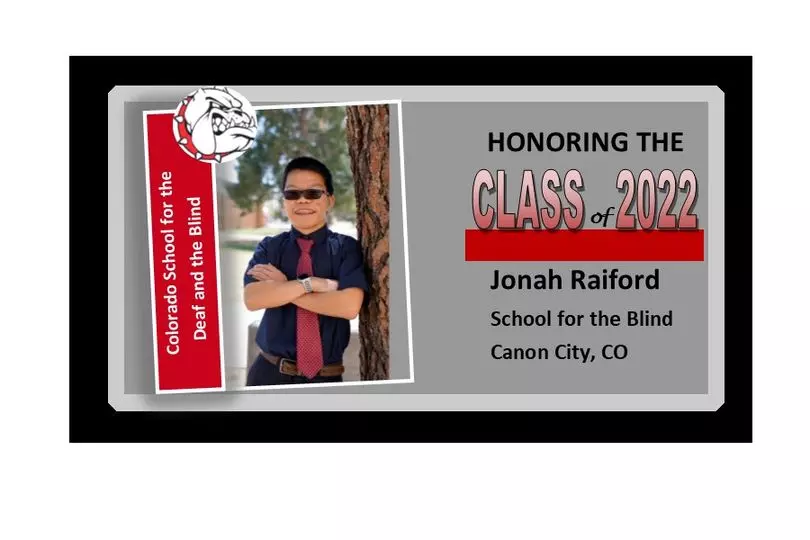 May 2022
Nothing Bundt Cakes? You bet!
Marie, student in the School for the Deaf, is enjoying her high school work study with Nothing Bundt Cakes. She's learning job skills and the art of decorating baked goods. Thank you to the staff of Nothing Bundt Cakes, who teach and care for Marie!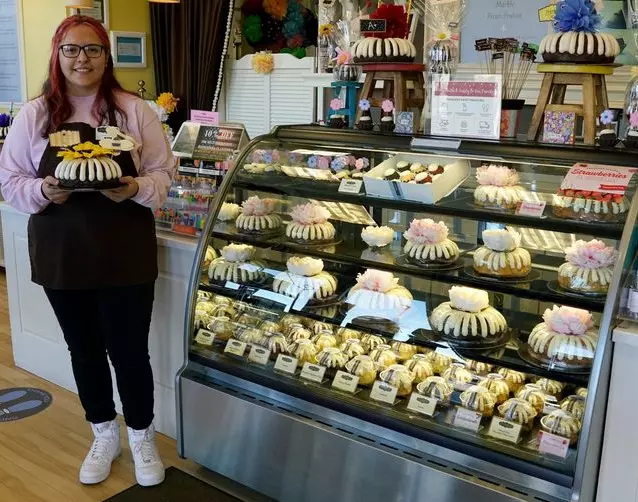 Tactile/Braille Book of ASL
May 2022
A special "shout out" and thank you to Cindy Cummings and the Colorado Instructional Materials Center(CIMC) staff for collaborating to create a braille and tactile book of the American Sign Language (ASL) alphabet for blind and low vision learners; thank you for helping to make ASL accessible to all staff on our campus! One of the users said, "Yes, this book is helpful for learning the letter signs, though I think it will work best in tandem with being physically shown all the signs. We suggest showing the signs for left-hand and right-hand, possibly mirroring each other on opposite pages." In response to this suggestion, the CIMC team is making several new books that incorporate both left and right-handed tactile graphics.  (The graphics do not belong to CSDB. This book is being used internally by CSDB staff and students for educational purposes only.)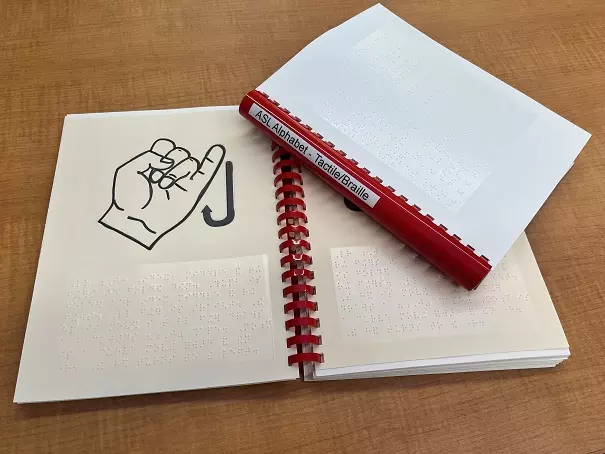 May 2022
Last week, students performed in the Bulldog Band, directed by Julie Harrison. In this photo, nine students and a staff member pose for a photo with Julie, who is holding flowers. The show was amazing and can be found on our YouTube Channel, https://www.youtube.com/watch?v=DPTkUC6dlQE&t=1356s .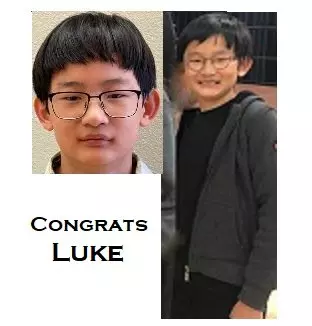 May 2022
As you know, CSDB students recently competed in the Communication Contest for the Deaf and Hard of Hearing. an Optimist scholarship program. We are delighted to announce that in the ASL contest, Luke, a CSDB student, was a Finalist at the Colorado/Wyoming District level. Congratulations!
May 2022
Super cool tactile bulletin board captures the attention of a student in the School for the Blind. This art is created by Tina, the CSDB Braillist. Thanks to Robin Teuting for the photo.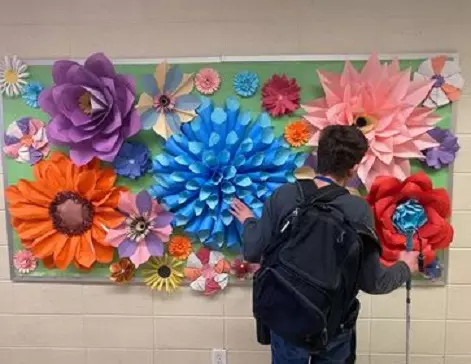 May 2022
Congratulations Cane Quest winners!! Cane Quest, a competition from the Braille Institute, is a challenging orientation and mobility contest for School for the Blind students in grades 3-6.
May 2022
A few years ago, our elementary school TSVI (Teacher of Students with Visual Impairments) Julie Vinikoor, approached me and my music therapy intern, Mia Hartley about creating a way for pitch to be used as a memorization strategy for her students learning braille letters. She noticed that many of her students that year had excellent affinity and memory for pitch. Indeed, most of her students had perfect (or absolute) pitch: They could identify a musical note without the assistance of a reference pitch. Studies have indicated that this skill may be more common in blind populations than in the general population (Hamilton et al. 2004; Vitouch, 2003). 
We formed the Tonal Braille Team (Julie Vinikoor, Mia Hartley, Jamie Lugo, Sharon Kay and myself) to study the effectiveness, among eight students, of using musical pitch with the braille cell. We used six bells (pictured above) to represent the dots in the braille cell, and assigned fixed pitches to each of the dots. We created a procedure to teach braille letters using these pitches. This tonal braille strategy was successful for 7 of the 8 students. One of the issues that we encountered was that to use this strategy with bells, the facilitator must be able to sing on pitch, which isn't always feasible, especially for teachers not trained as musical therapists.  Dr. Keith Harrison helped us develop a voice-controlled Android app that plays the pitches of the bells, and displays the corresponding braille cell on the screen and on a braille display.  Video of the app in action
If you are interested in helping us gather data on the effectiveness of this strategy, or if you would like to learn more about the app, please contact Julie Harrison, MT-BC at Jharrison@csdb.org or Sharon Kay, MT-BC at Skay@csdb.org. 
Hamilton, R. H., Pascual-Leone, A., & Schlaug, G. (2004). Absolute pitch in blind musicians. Neuroreport, 15(5), 803–806. https://doi.org/10.1097/00001756-200404090-00012 
Vitouch. (2003). Absolutist Models of Absolute Pitch Are Absolutely Misleading. Music Perception, 21(1), 111–117. https://doi.org/10.1525/mp.2003.21.1.111
April 2022
Did you know that the technology used in our Beeping Egg Hunt was invented by a CSDB volunteer, in the late 1960s?
Vernon Grimes, helped develop this remarkable device allowing visually impaired people to use a sound-emitting beep to play adaptive baseball, football, basketball, soccer, and participate in the Beeping Egg Hunt! Grimes was a member of the Telephone Pioneers service club, which continues to provide our Beeping Egg Hunt, to this day!
April 2022
The Colorado Springs Police Dept. returned to challenge the students, in the School for the Blind, to a goalball game. This time, they brought the Chief of Police, the Deputy Chief and the Mayor!
This is part of the Colorado Springs Police Department (CSPD) Community Relations Unit's new program called "PLAY COS." The program is aimed at creating more opportunities for positive interactions between officers and community members in Colorado Springs. Colorado Springs City Government
Keep Learning Alive Over Summer Break
April 2022
As summer break approaches, you are probably wondering what you can do to help your child transition back to school in the fall. Since reading is fundamental and connects to every field of learning, below are some suggestions to get you started.
Books (braille, twin vision, and large print) are available for summer checkout from the Adams school library (please contact me for details, if you are interested). The Colorado Talking Book Library (CTBL) has titles available for check-out also. You may complete an application to have books delivered to your home. Applications are available in the school library office or at the CTBL website. For more information, go to https://myctbl.cde.state.co.us/
Research shows that reading greatly impacts a student's learning. Our literacy teacher has posters stating these facts at the entrance of her classroom. A student that reads for more than 20 minutes a day is exposed to 1.8 million words a year. A child that reads on average 5 minutes a day is exposed to 282,000 words per year and a child that reads approximately 1 minute per day is exposed to 8,000 words per year. 
If you are interested in listening to audiobooks with your child, check out Sora (CSDB's online library). Students can log-in with their CSDB student login. Sora is also available through Pikes Peak Library District (PPLD) if you have a PPLD card. Tumblebooks is another resource that can be accessed through PPLD. I also recommend Learning Ally and Bookshare. These reading programs were developed specifically to assist students who have difficulty accessing print books. If you have questions, please contact me.
Other suggestions you might find helpful in supporting your child's learning over summer break.
https://dcmp.org/learn/267-summertime-cool-ideas-to-enrich-and-teach
March 2022
Jacksun's message of love to share with senior citizens, "Remember that you are wanted and people love you."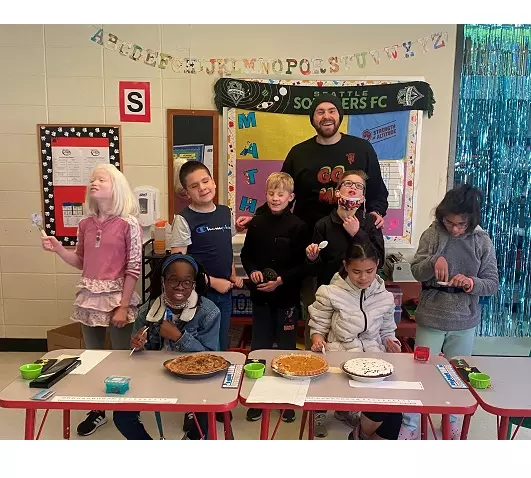 March 2022
Pi Day! What's that?
March 14, or 3/14 commemorates the mathematical sign Pi, 3.14159....
Yesterday, several classes celebrated this number, the relation of a circle's circumference to its diameter.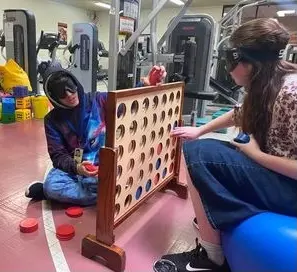 March 2022
Rockin' the game competition!
Students are playing Connect 4 that has been modified so half of the chips are marked with Braille. Now, the game is accessible for students who are blind or visually impaired. Students are wearing eye shades so each person's vision classification is the same for game competition.
March 2022
Read Across America Day brought together CSDB students along with students from other schools (virtually) to enjoy stories and crafts.
March 2022
Braille Challenge is the only academic competition of its kind in North America for students who are blind or visually impaired. Braille Institute launched Braille Challenge in 2000 to motivate students to practice and hone their braille literacy skills, which are essential to academic and employment success. Regional events are held from January through mid-March throughout the United States and Canada. The top 50 students (10 in each category) with the highest scores are invited to the National Finals in Los Angeles, California.
Denver Metro (Virtual) Braille Challenge
The Denver Metro Braille Challenge event is hosted by the CSDB Outreach Department. Nine students from six Administrative Units across Colorado participated virtually this year. TVIs had the month of February to proctor the contest for their students. Games, songs, dancing, and snacks were fun activities students enjoyed in addition to the contest. Here are quotes from two of the participants:
When asked if he looked forward to and enjoyed the Braille Challenge, one student responded. "Yes!  I love the Braille Challenge! We get to have a party all about braille. Some of the tests are pretty hard, but I can try to win a prize for doing good work!".  
"The Braille Challenge is cool because I have the ability to participate in something my sighted friends don't. I like the brailled Uno cards and dog tag I got. I also am excited for the opportunity to compete in California if I make it that far, and if the pandemic lets us."
CSDB Campus, Colorado Springs
CSDB celebrated the Braille Challenge on campus on March 3, 2022. Students enjoyed the braille competitions and rookie activities scheduled throughout the day. Gift cards and prizes were raffled off, yummy pizza was served for lunch, and the day ended with a celebration and closing ceremony in the School for the Blind Auditorium with songs from our very own Bulldog Band! Thank you so much to the Braille Institute for supplying the contest materials, prizes, and swag to all the students.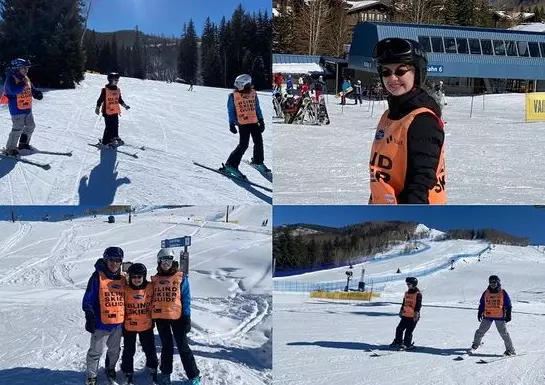 March 2022
Some students in the School for the Blind experience winter outdoor education with the help of ski guides!
March 2022
Did you know? Today is Fat Tuesday, a celebratory day during Mardi Gras. Purple, green, and gold are the traditional colors of Mardi Gras: purple stands for justice, gold represents power, and green reflects faith.
Check out these students making Mardi Gras masks, in the School for the Blind!