September 2023
Concrete Coyote Concrete Couch hosted our School for the Blind high school students, once again.
Students toured the property, learned about different varieties of wood (smelled pine and cedar to see if they could distinguish the type of wood) and explored the tactile kiosk made by our former CSDB students. Then, this group created more tactile tiles out of clay to add to the kiosk. They also learned to use tools such as electric screwdrivers, screws, and drills to put together wooden sculptures they created.
What a great experience for our students! Thank you, Concrete Couch!
Thanks to Jennifer Holt, CSDB School for the Blind TVI, for sharing the photos and story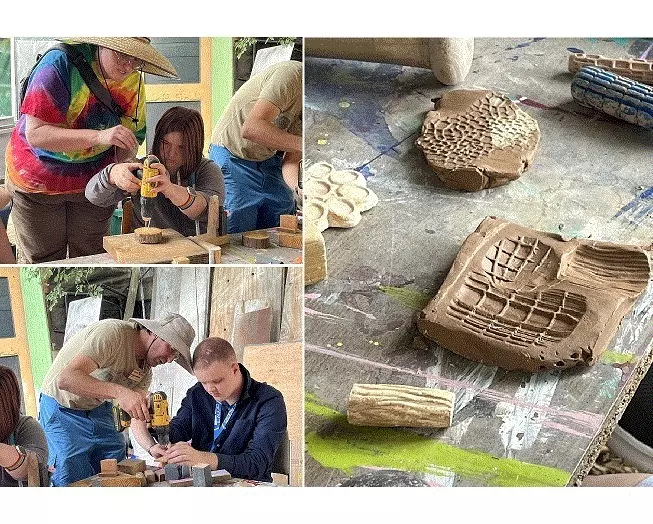 June 2023
Awesome video on the topic of Blind Awareness, created by the CSDB Media Production team.
May 2023
CSDB students, who are blind/visually impaired, visited the Bear Creek Nature Center VIP Trail, in El Paso County, CO, to test out the new audio signage, using a Pen Friend. Overall, students said the audio signage made the trail 100% better, and then they offered a few suggestions that the trail guide recorded. Such a great experience for our students to use an accessible trail and advocate for themselves!
Bear Creek Nature Center & Fountain Creek Nature Center El Paso County, Colorado
[top left and center, students walk along a trail using their canes; top right, students and staff follow a rope to the signage; lower left and center, students use a Pen Friend scan the signage and activate the voice; lower right, male student listens to his Pen Friend, text "Bear Creek Nature Center VIP Trail]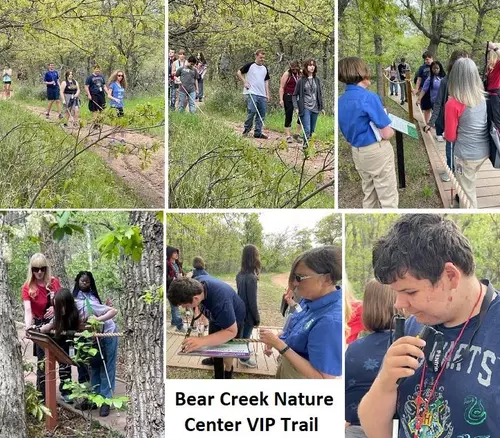 May 2023
Over the past 8 weeks, students in the school for the blind have been participating in an afterschool archery program. Students have learned the 11 steps to archery success through the National Archery In the Schools (NASP) program. Students learned about archery safety, range setup, and how to shoot a compound bow.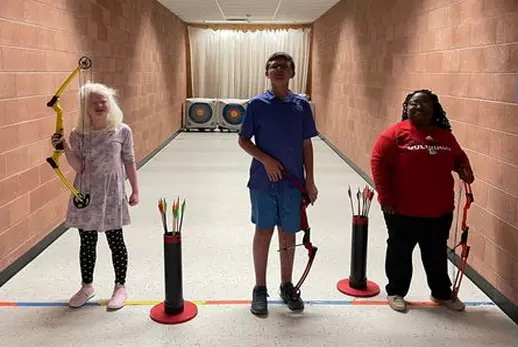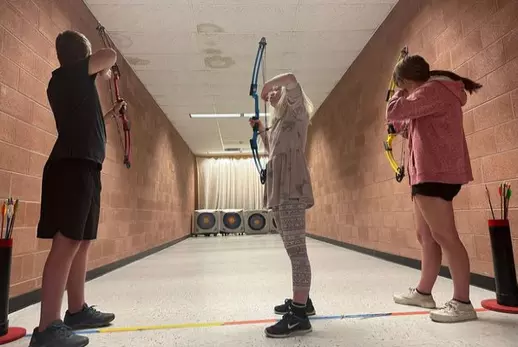 Class of 2023-Jamie Cajumban
May 2023
Celebrating a member of the Class of 2023, Jamie Cajumban. Congratulations!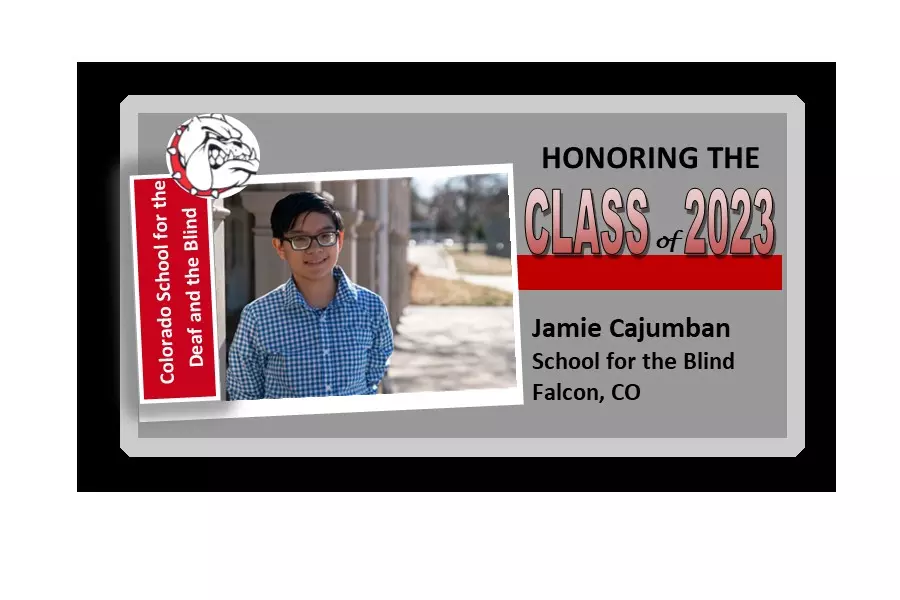 Class of 2023-Isaac Chandler
May 2023
Celebrating a member of the Class of 2023, Isaac Chandler. Congratulations!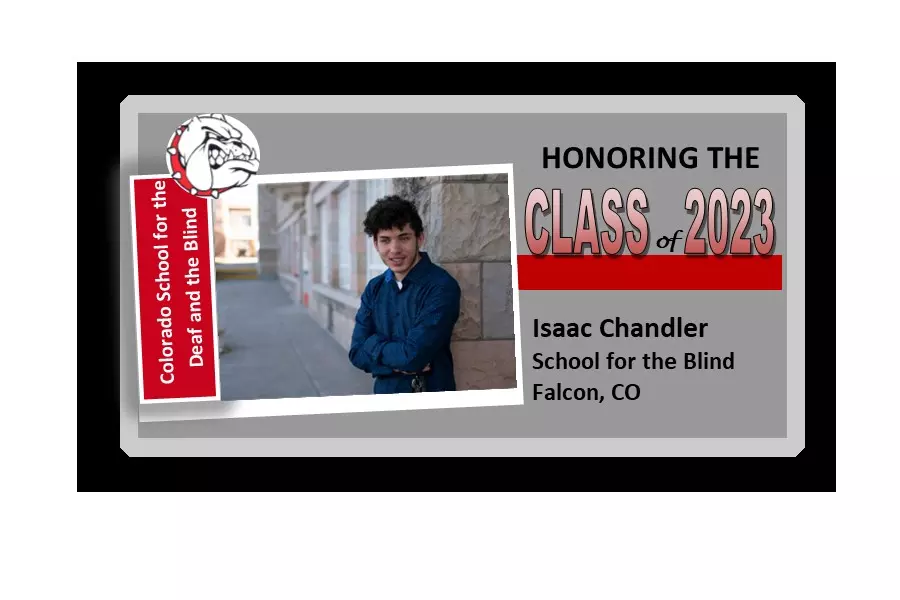 Class of 2023-Shamaree Hampton
May 2023
Celebrating a member of the Class of 2023, Shamaree Hampton. Congratulations!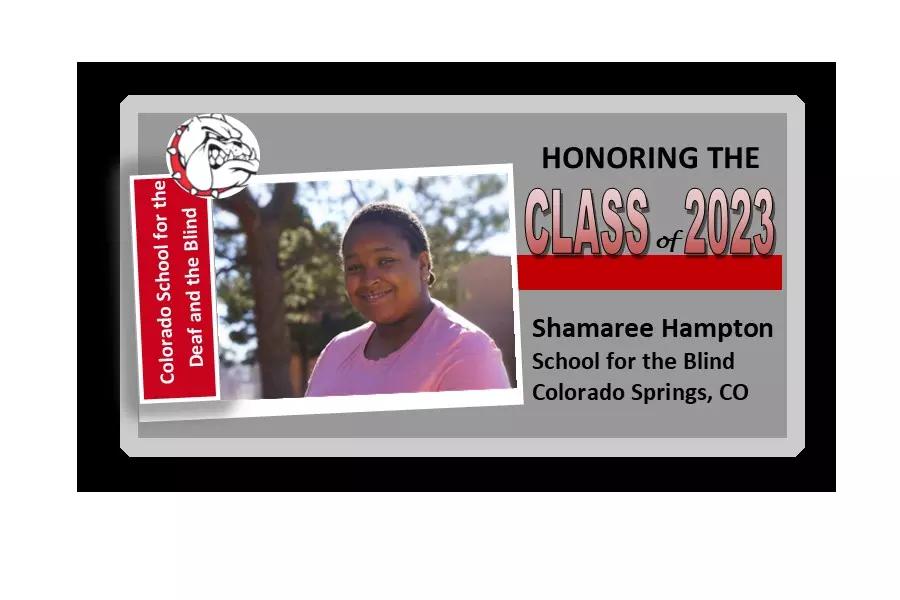 Class of 2023-Skyla Walsh
May 2023
Celebrating a member of the Class of 2023, Skyla Walsh. Congratulations!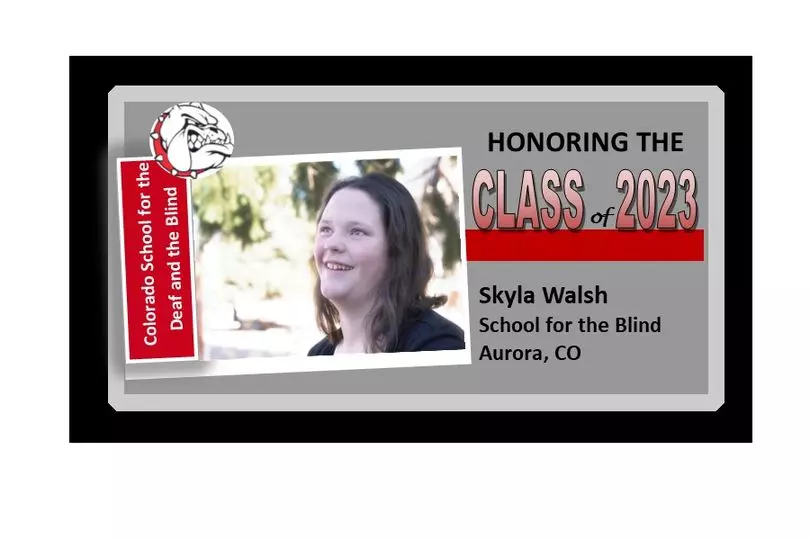 March 2023
Written by Nancy Barron, Assistive Technology Specialist, School for the Blind
Elementary students, in the School for the Blind, are preparing for the CSDB Book Bonanza, which will take place on Friday, May 12, 2023. They are using various devices and braille, audio, or large print to read five books for this event.
Some students are reading the books using a Chameleon 20 refreshable braille display. These students are loving the new text-to-speech feature on this device. They can hear the story as the system reads it audibly and can use the braille display to read the story, reinforcing their braille reading skills. https://www.aph.org/product/chameleon-20/?scrlybrkr=4ee7dac5
Other students are listening to the books using their computer and the JAWS screen reader.
In addition, the Mantis Q40 refreshable braille display can be used to read the story in braille. When students connect the braille display to a computer or tablet, they can use a screen reader to listen to the book in addition to reading from the braille display. https://www.aph.org/product/mantis-q40/?scrlybrkr=4ee7dac5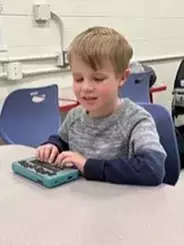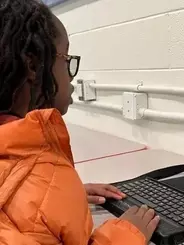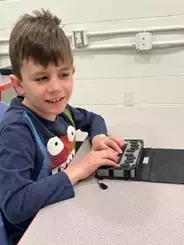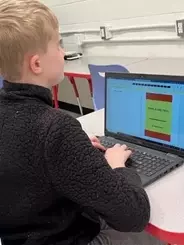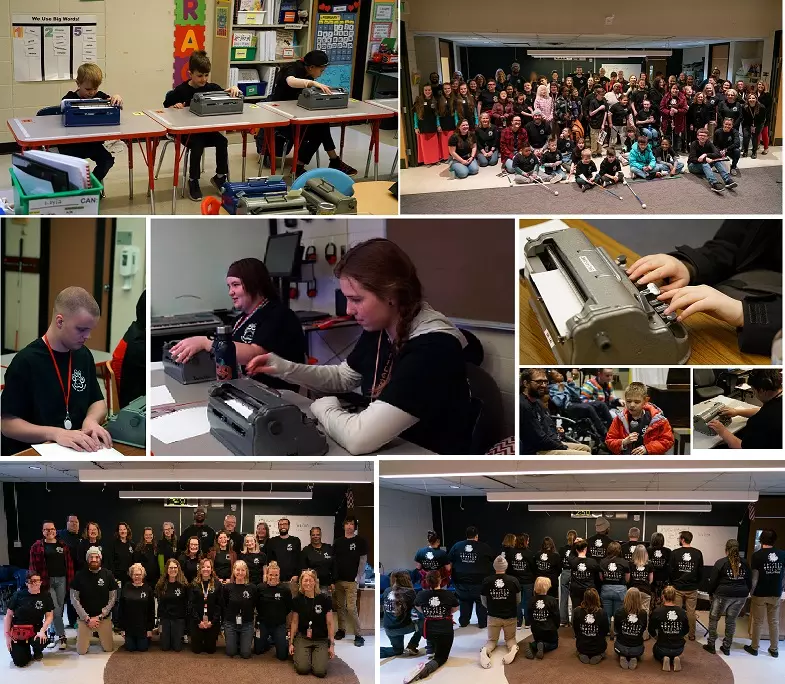 January 2023
Students from the School for the Blind art class hosted an Artist-in-Residence from the Colorado Springs Fine Arts Center at Colorado College. The artist was joined by Michael Christiano from the FAC, as they taught the students about clay. What a terrific partnership!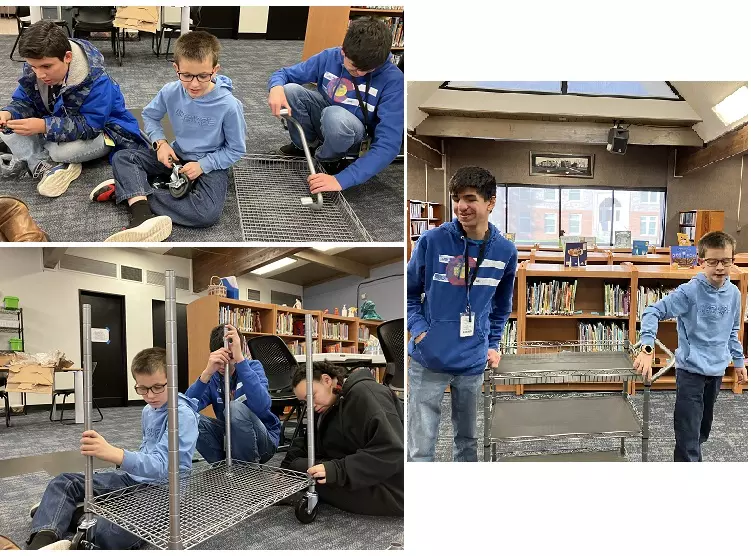 December 2022
It's an "Add to Cart" kind of day!
Students, in the School for the Blind, used tools and parts, as well as a heap of critical thinking, to put together a utility cart. Great independence, #CSDBBulldogs!
October 2022
Check out our Halloween Costume Parade, CUTE!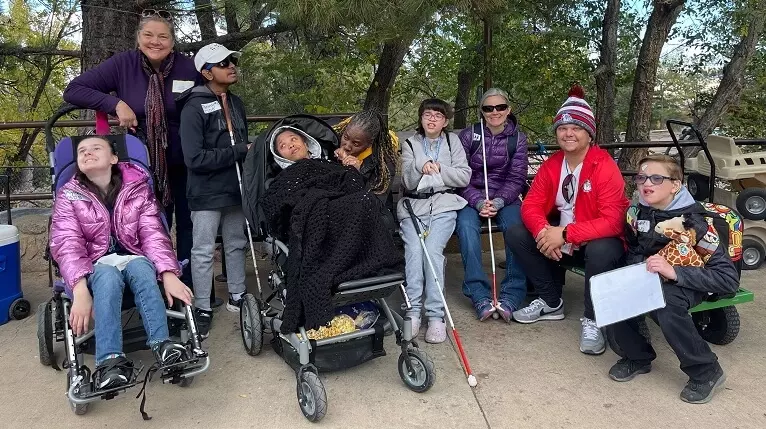 October 2022
Students in Grant Kraus' School for the Blind class explored the Cheyenne Mountain Zoo, recently. The students gained background knowledge through touching skin textures, shapes and sizes of animals and experiencing zoo smells. Thanks to Grant for the photos!
Music Therapy Strategies at CSDB
October 2022
Written by Julie Harrison, CSDB Music Therapist
A young woman holding a guitar meets a student at her school bus. The student finds it difficult to transition into the school day, and music is one of the supports she needs. The woman plays songs the student has come to associate with easing into the day. Erin smiles and begins to pat her legs. She rolls into the school building in her wheelchair.
Music therapy is a research-based health profession in which a board-certified music therapist uses music interventions to reach non-musical goals in a non-threatening environment with people of all ages and abilities. Music therapy can benefit in any setting, such as academic settings and medical settings. Music therapists work towards academic, communication, cognitive, behavioral, social and motor goals.
Music therapists, such as the one in the above story, are trained to utilize the captivating elements of music to help students with non-musical tasks such as transitions, learning the braille code, utilizing their assistive communication devices, and reinforcing Orientation and Mobility, Physical Therapy and Occupational Therapy goals. 
CSDB has one certified music therapist who serves as our music educator, and a music therapy intern serving students until January.  The educator/therapist often co-treats with other professionals at the school and supports academic teachers with their IEP goals. She serves the School for the Blind and the School for the Deaf. This month, she will serve the Outreach department by supporting their family programs.  While we do not currently provide one-to-one music therapy services, we incorporate music therapy strategies in all music education settings. Music is a powerful tool for many of our students and can help our students thrive and achieve at CSDB.
October 2022
Recently, the School for the Blind students and staff visited the North Pole in Cascade, Colorado. Many giggles were had while students enjoyed a variety of rides and it felt like we were really hiking to Santa's House. Our students loved the magical experience and whimsy. They even got to meet Santa! This activity is an example of a recreation and leisure skill, one of nine life skills kids with visual impairments and multiple disabilities learn through the Expanded Core Curriculum. 
Liz Arnquist, School for the Blind TVI
September 2022
Coming October 14th! Join us in Colorado Springs at Acacia Park to celebrate White Cane Day.