September 2023
Preschoolers - so cute!
In September, preschool focused on learning about Community Helpers. Preschoolers have really grasped the school routine and are loving their days at school.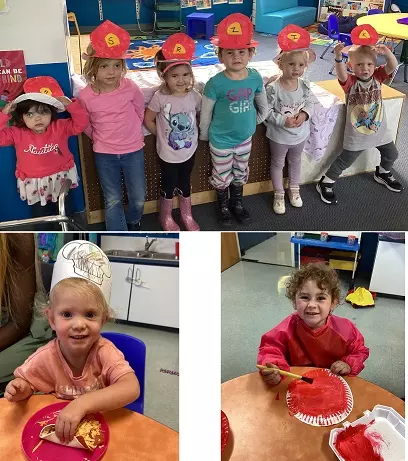 August 2023
Preschool started on Monday, August 21st.  This 60-second video has a barrel of cuteness!
(Audio description is included along with captions when their is voicing.  The video has background music)
June 2023
Preschool graduation....it's a wrap!
[Photos: upper, three preschool boys, in the School for the Blind, and their teacher smile broadly; middle, three preschool boys, in the School for the Deaf, their teacher and the Curriculum, Instruction and Assessment Coordinator hold awards; lower, a mom smiles and congratulates her son. Graphics: graduation cap, trophy, paperclip, graph paper]
February 2022
School for the Blind Preschool students joyfully experience jumping and climbing at CityROCK .
[Video is audio described with background music.]
December 2022
Students in the Preschool for the Deaf spent time experimenting with color and shades. They made predictions and then tested their theories! The students started with base colors, then added black and white to see what happened. The class reports that when they added black, the colors became darker. When they added white, the colors became lighter. After mixing up the new colors, the students painted beautiful pictures to display in their classroom! 
Written by Leah Norris, Preschool Teacher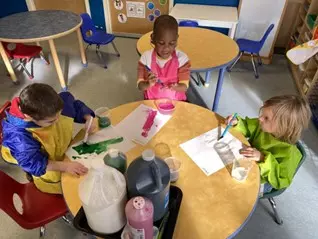 October 2022
Check out our Halloween Costume Parade, CUTE!