February 2022
School for the Blind Preschool students joyfully experience jumping and climbing at CityROCK .
[Video is audio described with background music.]
December 2022
Students in the Preschool for the Deaf spent time experimenting with color and shades. They made predictions and then tested their theories! The students started with base colors, then added black and white to see what happened. The class reports that when they added black, the colors became darker. When they added white, the colors became lighter. After mixing up the new colors, the students painted beautiful pictures to display in their classroom! 
Written by Leah Norris, Preschool Teacher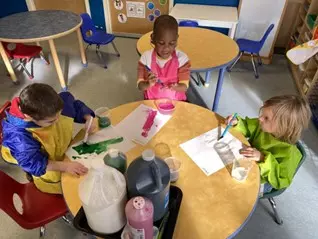 October 2022
Check out our Halloween Costume Parade, CUTE!
September 2022
A new year, a new school, new friends, new teachers, and new curriculum to match it all! While any preschool is certain to bring a variety of newness to any child's life, this is certainly true for the CSDB preschool this year. In addition to many new students and a new teacher, CSDB's preschool is also implementing the HighScope curriculum for the first time! HighScope is a preschool curriculum that is centered around active learning, building adult-child interactions, establishment of a daily routine, child-centered problem solving, and teaching in the context of children's interests.
Many aspects of the curriculum are unique to HighScope, including the plan-do-review structure. In this structure, students make a plan related to their "work" time, carry out their plan during work, and then review what was done during work time. Planning time gives children a structured, consistent chance to express their ideas to adults and to see themselves as individuals who can act on decisions. They experience the power of independence and are conscious of their intentions. During work time, children have opportunities to play, gather information, interact with peers, and solve problems. In recall time, students are given a chance to represent their work-time experience in a variety of ways. Reviewing permits children to reflect on what they did and how it was done and brings closure to children's planning and work-time activities. Putting their ideas and experiences into words also facilitates children's language development and enables children to represent their mental schemes to others.
Naturally, components of the curriculum have been adapted to be accessible both for students who are blind/visually impaired, and for students who are Deaf and hard of hearing. In CSDB's preschool, you will find things such as tactile schedules, visual schedules, adapted area signs, chances to practice daily living skills, and a wide variety of sensory toys and tools to meet our students' individual needs. CSDB's preschool team is excited to continue diving into this year, with our students by our side, as we grow and learn together!
Written by Sharon Kay, Teacher in the School for the Blind Preschool
Welcome to 2022-2023 Preschool
August 2022
Sensational video featuring our Preschool students!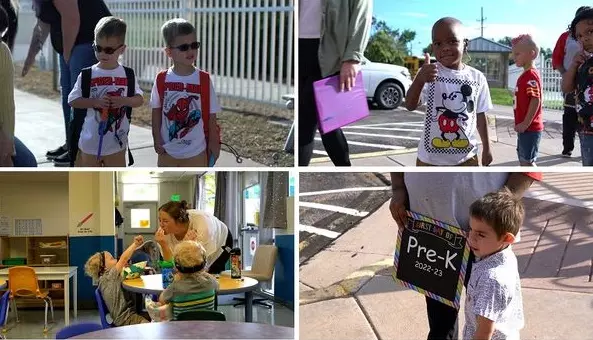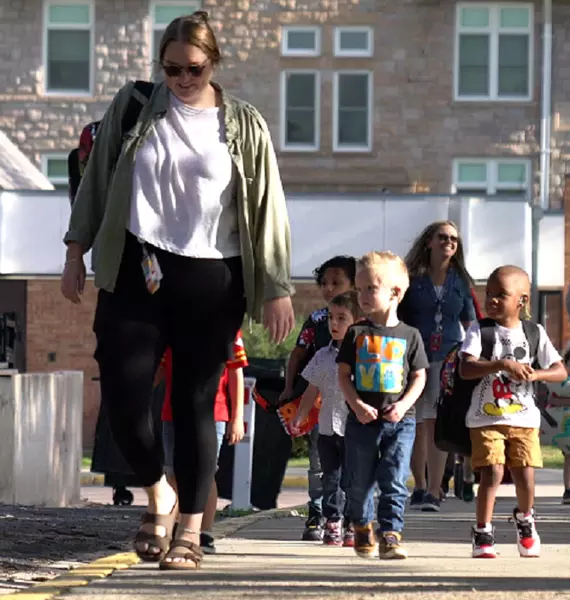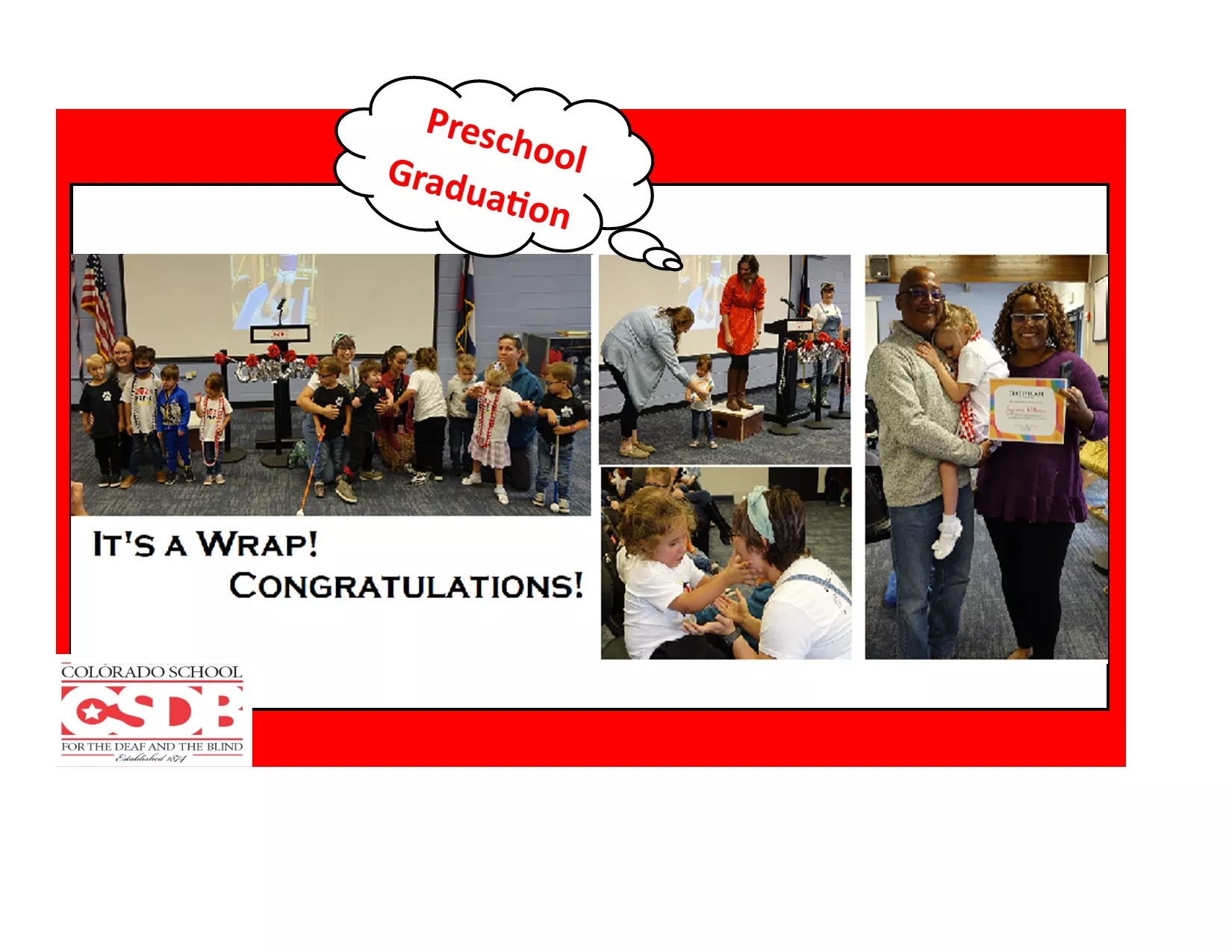 June 2022
Time to CELEBRATE!
This week was the last week of Preschool for the 2021-2022 school year.  Students, staff, family and friends gathered to celebrate our PreK students in both the School for the Deaf and the School  for the Blind.  Students received awards and we honored the students that will be progressing into Kindergarten next year.  The kids were all so excited and we are all very proud of all they have accomplished this year. Classes wrapped up the year with a water play day and party in their classrooms. 
June 2022
Adorable! Preschool students celebrating their advancement to Kindergarten.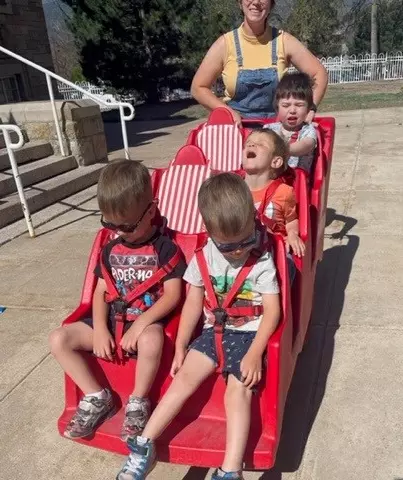 May 2022
It's tomorrow!! Get ready for extreme cuteness at preschool graduation! Photos to come...
Preschool in the Children's Village-PK
May 2022
Preschool students from the deaf and blind classes love to play, learn, and have fun together! In the Children's Village they are able to practice communication, math, and vocabulary skills while immersed in a play based learning environment with their friends. They love to fill their shopping carts with all of their favorite foods and use the cash register!