Financial Literacy Workshop
April 2023
Heather Stocker, VP, Financial Wellness Consultant with PNC Bank provided a Financial Literacy presentation to students who are Deaf/Hard of Hearing and Blind/Visually Impaired, in the Post School Preparation classes, which helped with financial understanding as our students prepare for an adult environment. Thanks @PNCBank !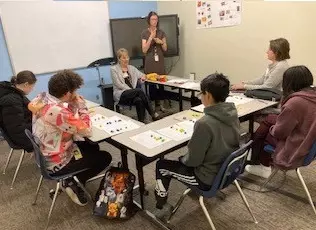 January 2023
Jose, who just completed the Bridges to Life program for students who are blind, is terrific! Watch to the end for his great news about a University program.
December 2022
Bridges to Life students attended a Winter Dance at Skills Academy on Garden of the Gods in Colorado Springs. The dance was hosted by the Pikes Peak Interagency Transition Team (PPITT), a group of Transition coordinators in the area. https://csdb.colorado.gov/ppitt-dance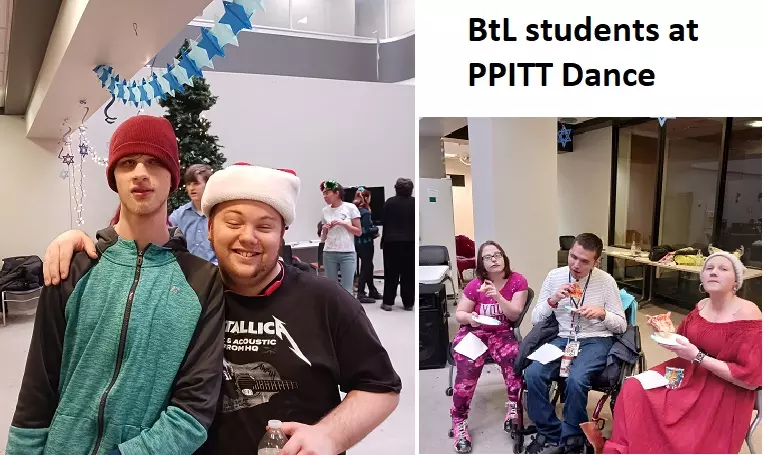 What in the World is a Capstone Project?
October 2022
The Colorado Department of Education website says, "A Capstone Project is a multifaceted body of work that is district determined and serves as a culminating academic and intellectual experience for students." That's important!
Check out the newest CSDB video showing Capstone Projects at CSDB.
Colorado Springs Habitat for Humanity ReStore
September 2022
Students in the CSDB Employability Center Post School Preparation and Bridges to Life transition classes participate in various off-campus community service experiences to prepare them for future success as productive citizens in their independent lives.
Recently, the volunteer coordinator from the Colorado Springs Habitat for Humanity ReStore explained about the mission of Habitat for Humanity. Both Deaf/Hard of Hearing and Blind Visually Impaired students were able to participate in the presentation with the support of an ASL interpreter and an audio describer. Students will have the opportunity to participate in community service in the Habitat for Humanity ReStore. Their tasks may include stocking merchandise, doing inventory, and other retail tasks.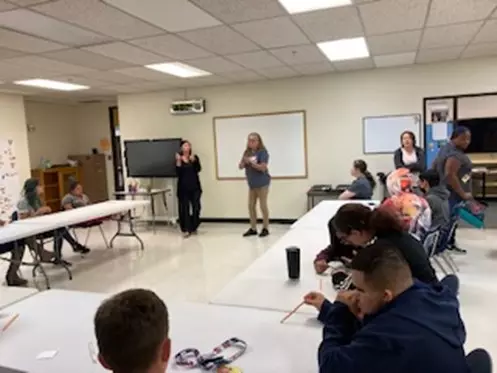 Warehouse Work at Care and Share
September 2022
Bridges to Life students, in the Employability Center, have been learning what it takes to work in a warehouse, like Care and Share food bank. We want to extend a huge thanks to the Care and Share staff for providing food distribution in their center, as well as volunteer opportunities for CSDB students.
CSDB students were part of the Sort and Pack Food process. According to the Care and Share staff, in one morning, students sorted enough food to feed 100 families in our community. When asked at the end of their shift what was their highlight, one student said, "I am thankful to sort good food to 100 families."
Bridges to Life 1st Day of School
August 2022
The CSDB Bridges to Life program welcomed students from across the State of Colorado for the first day of school! On the roster for the new school year are 25 students excited to continue to learn about the world of work, post-secondary educational options, and independent living skills. Returning BtL students were excited to meet new students into the program from our CSDB high school and other Colorado high schools. It was a great first day!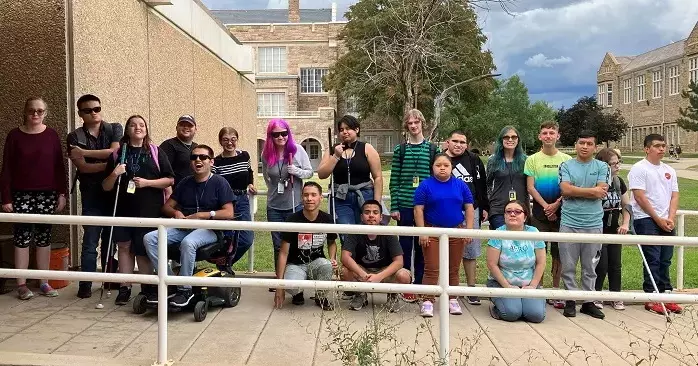 Welcome to the 2022-2023 School Year!
Employability and Transition Services
August 2022
Check out this tour video, led by our students, about the Employability and Transition Services. Great program, pass it on!!
June 2022
A look back! Just a few short weeks ago, our Bridges to Life students and staff celebrated numerous successes by playing together: bowling, arcade, restaurant and more!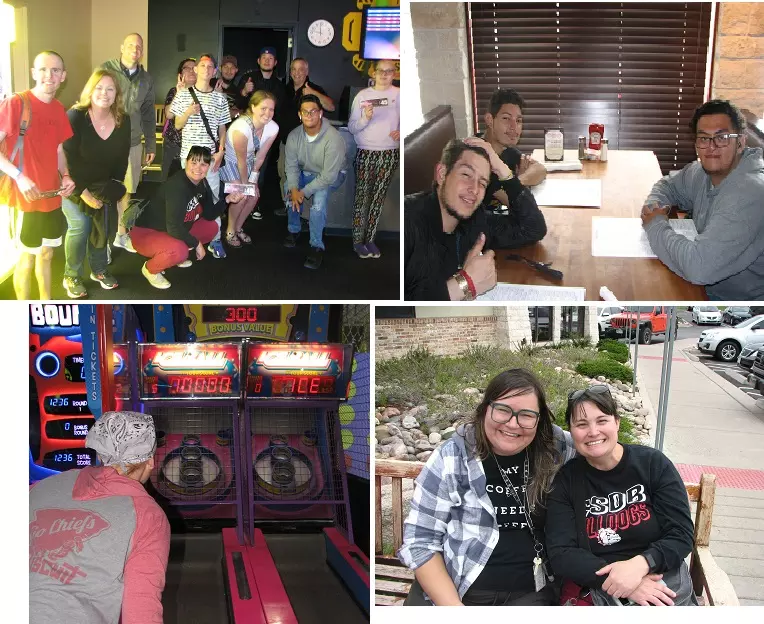 June 2022
Last week's 5K at CSDB was a fun event for students, families and staff!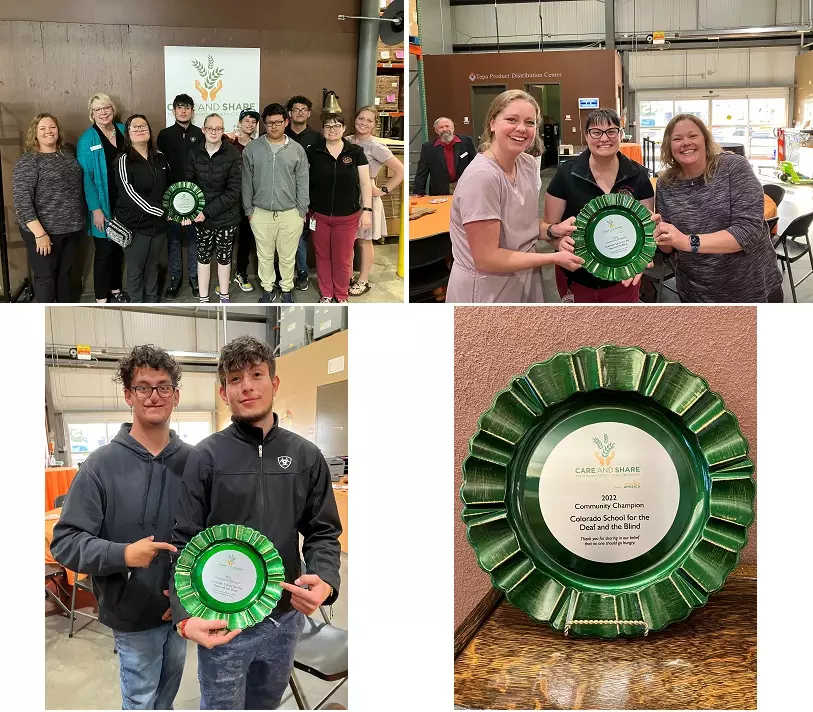 Congratulations to the BtL Staff and Students!
June 2022
Congratulations to the Bridges to Life staff and students, as Care and Share honored their work with an award! CSDB received the 2022 Community Champion award from Care and Share. This award is displayed in the Administration Building lobby.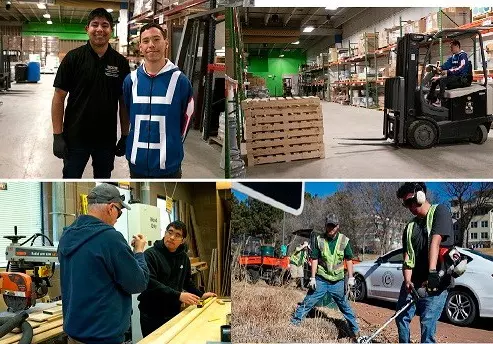 May 2022
Kudos to University of Colorado at Colorado Springs (UCCS) for working with our students! UCCS
Ethan, a Senior in high school, is in the work study program. He's working in the warehouse, learning to drive a forklift and more. Ethan's supervisor is a CSDB Alum!
Angel, in the Bridges to Life program, works at UCCS in carpentry. His supervisor Sammy Wilding, is the father of our CSDB Athletics Director, Max. Small world!
Nikko, also in the BtL program has a job in the UCCS grounds department, and his supervisor is also a CSDB alum!
We are so appreciative of UCCS for helping our students learn skills that will benefit their future careers!